25 Fun Self-Esteem Activities & Games for Kids / Teens: How to Build Confidence in Kids
24 TIPS to help kids build confidence
+ 25 Self-Esteem ACTIVITIES / GAMES for kids and teens
There are lots of easy ways for parents and educators to help children boost their confidence. There are also plenty of self-esteem activities for kids and teens that are fun and engaging.
Building positive self-esteem and confidence is important to the child and teen development. It helps them become more emotionally resilient and cope better with stress and life challenges. But, how can we build confidence in our kids?
Self-esteem activities for kids can help us with this task. But, in order to identify the best way to help your child/teen (or student), it is important first to understand what self-esteem is.
Table of Contents:
Self-concept and self-esteem definitions
Exploring self-esteem
24 Tips on how to build confidence in kids
25 SELF-ESTEEM ACTIVITIES for kids and teens (includes 5 Self-Esteem Worksheets /Free Printable PDF– at the end of the post)
(Disclosure: We are a participant in the Amazon Services LLC Associates Program, an affiliate advertising program designed to provide a means for us to earn fees by linking to Amazon.com and affiliated sites. There may also be some other affiliate links in this post. You can also read our Disclosure & Disclaimer policy here)
Self-concept and self-esteem definitions
Self-concept and self-esteem are two closely related concepts. Self-concept is the representation we construct of ourselves, after assessing our competence in different areas in our lives (interpersonal, sports, work, etc.). In simple words, self-concept is what we think about ourselves
Self-esteem develops in parallel to self-concept. Self-esteem is the evaluation we make of ourselves, and it can range from low to high self-esteem ("I´m worthless" – "I´m worthy"). Self-esteem is how we feel about ourselves and our personal characteristics. It is greatly influenced by the evaluation we make of the different aspects that comprise our self-concept.
Exploring self-esteem in kids & teens
In order to understand a bit better this abstract concept, I will delve into Susan Harter´s extensive research on self-esteem. Harter has developed widely-used self-perception scales for children and adolescents. In her work, she identifies two coexisting categories of self-evaluation:
global self-worth (overall self-esteem)
domain-specific evaluation in different areas (for example, schoolwork performance)
The self-concept domains that Harter´s self-perception scales for children explore are specifically:
scholastic competence (e.g. doing well at school work, finishing schoolwork quickly)
social competence (e.g. knowing how to make friends, knowing what to do to be accepted by others)
athletic competence (e.g. ability to do well at sports)
physical appearance (e.g. being happy with one´s looks)
behavioral conduct (e.g. degree to which a kid likes the way he/she behaves, avoids getting into trouble)
As kids grow older and become adolescents, new relevant domains of self-evaluation need to be considered:
friendship (which is different from social competence – this would be the ability to make close friends)
romantic appeal (e.g. finding that they are interesting and fun on a date)
job competence (this one is very dependent on the social environment -while lots of teenagers do part-time jobs in US, it is not the case for other countries)
Are all these domains equally important for my kid's self-esteem? Which specific self-concept domains contribute more to one's overall sense of global self-worth?
Our kid's overall self-esteem doesn´t come from just adding the level of performance in each of the self-concept domains. There is an overall evaluation of how much they like themselves as a person. Each domain of their self-concept contributes in a different way.
High competence in a domain highly regarded by a teen (for example, physical appearance) will be a good predictor of high self-esteem. High competence in an area that teen does not consider important will have less impact.
Related reading: The Construction of the Self: Developmental and Sociocultural Foundations, by Susan Harter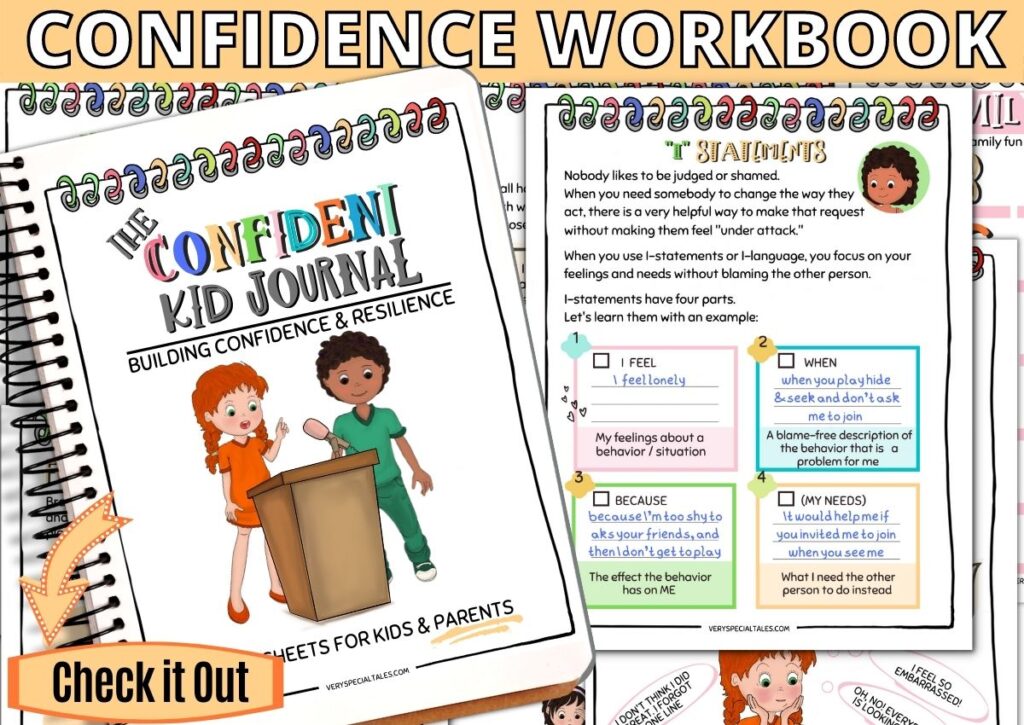 24 Tips on How to Build Your Child's Confidence
These are some ideas and advice on how to help your children build confidence and self-esteem:
Make them feel good and valued:
1. Provide them with opportunities to feel good and happy, surrounded by people with whom they feel safe and happy.
2. Tell them you always love them (even when you don´t like what they do).
3. Show interest in the topics and activities that interest them.
4. Ask for their views on different topics (TV series, new decoration for a room) which will show them their opinion is important
5. Nurture and support their interests.
6. Spend "special time" with each of your children. They will have your undivided attention during that time, and will not have to compete with their siblings for attention. It will also show them how special they are.
7. When you need to address your children's behavior, never label them. Focus on the behavior and not your child. Say "what you did wasn't ok" instead of "you were bad".
Make them feel competent
8. Provide them with opportunities to experience success. Don´t do everything for them. If they need help, provide it, but let them finish things on their own
9. Regularly praise their achievements, effort and progress
10. Teach them a new skill.
11. Enroll them in a new activity that will expand their set of skills (and interest them).
12. Let them show you how something works (like a new app, a computer program they use at school).
Foster their Independence
13. Assign them their own age-appropriate responsibilities (or activities appropriate to their developmental stage). As a special needs parent, we try to provide opportunities aligned with our child´s capabilities.
14. Provide them with opportunities to make choices on some activities.
Let them know how the real world works so that they don´t have unrealistic expectations and build resilience
15. Let them know about people´s reality. Help them understand that everybody has happy and unhappy times, achievements and failures.
16. Emphasize how we all have strengths and weaknesses.
17. Share your mistakes, and model positive responses to them.
18. Help them understand how we learn from mistakes. When something doesn´t work the way they expected, discuss with them how they could have done it differently and what they learned from the experience.
19. Teach them how hard work helps us achieve our objectives.
Teach Social Skills
It may be interesting to help your child improve a range of social skills, for example:
20. How to request somebody to stop a behavior (Assertiveness: Teaching kids how to communicate assertively)
21. Problem-solving in social situations.
22. Conversational skills.
Work on the cognitive dimension of self-esteem
23. Help them reframe negative thinking that may lead to low self-esteem.
Teach them skills that will make them more "academically competent"
24. Teach them study techniques (time management, setting priorities, making a summary, looking for key ideas in a text)
25 Self-Esteem Activities & Games for Kids and Teens
This is a "work-in-progress" list with some self-esteem activities for kids and teens. I will keep adding new activities and ideas as we work through them at home.
a) Fun Self-Esteem Games / Social Skills Games
The role of play in human development has been well documented by research. Games with rules (starting around the age of 6 or 7) are very important for their social development as they require: cooperation, following rules, competing, thinking about the other's point of view and anticipating other people´s actions.
So, if kids learn through play, one of the best learning methods when we are teaching them new skills could be GAMES.
These are some fun games to help boost self-esteem. I´ve also included social skills games because improving their social skills will have a positive effect on their self-esteem and confidence.
Why I like it:
It helps kids and teens:
Discover their strengths and qualities through other people's eyes
Learn how to express gratitude
Enjoy bonding opportunites
Understand each other
Become comfortable with praise and positive comments
Share their feeling about other people
Connect with family and friends.
Tip:
It is meant for kids aged 8 and older, but those a bit younger may still enjoy receiving praise and compliments from others.
This game consists of a series of questions connecting personal, emotional and social strengths of each player.
Players take turns with question cards, as they simultaneously cooperate to plan and build a strong and sturdy tower
There are three types of cards in the game:
Blue cards for enhancing personal development (e.g. What am I good at? What is my favorite story?)
Red cards for strengthening emotional intelligence (e.g. What makes me feel hopeful? When do I feel patient?)
Yellow cards for boosting social skills (e.g. What would I want to learn from others? Something kind that I did for a friend was)
Why I like:
It's a great conversation started, that provides opportunities to talk about emotions in a fun and stress-free environment
It encourages positive thinking
It develops a range of important skills:

identifying positive traits
conversation skills
managing frustration
cooperation
fine motor skills

It is fun to play!
The next two games were designed for therapists, counselors and educators:
Why I like it:
It helps kids and teens:
open up and talk about themselves in groups
start conversations that encourage them to reflect on their existing strengths and weaknesses.
Tip:
Great for counselors, therapists, teachers, and families.
Playing CBT:
supports and facilitates treatment for children and adolescents
addresses various emotions, physical sensations, thoughts, cognitive traps and behaviors.
it is designed specifically to improve social skills, emotional regulation, self-control and self-resilience in children and adolescents.
Tip:
Playing CBT is a therapy game designed for use in individual therapy and group sessions by therapists, counselors and educators.
This is an activity that we shared in our conversation cubes blog post. It will facilitate conversations about self-esteem and help kids think more positively about themselves.
Let's roll the self-esteem question dice!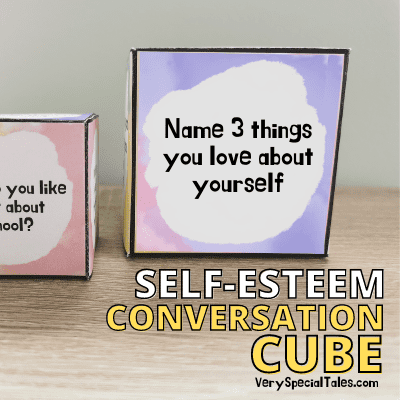 b) Self-Esteem Worksheets for Kids
Things I Like About Myself" Worksheets
Make a list of your positive characteristics, inner qualities, achievements, and talents.
These "Things I like about myself" worksheets can help with this fun activity ⇓

c) Some Feel Good / Positive Self-Esteem Activities for Kids
Write a Gratitude Journal or Use Self-Esteem Journaling Prompts
Write a gratitude journal- it will focus your kid´s attention on all the positive things in his/her life.
This journal is absolutely gorgeous and it helps kids discover:

the importance of feeling love and connection
we all have strengths and weaknesses
that mistakes help us learn
what real friendship looks like
Related reading: Benefits of Journaling for Kids
👉 More gratitude activities for kids

Growth Mindset Conversation Cards

Make time for growth mindset conversations:
You can share thoughtful discussions about growth mindset, kindness, resilience, gratitude, and more with these gorgeous cards.

You can also use these growth mindset quotes as conversation starters.

Set Up an Achievement Wall
Set up an achievement wall- frame happy moments pictures and the achievements that make them proud (this option looks gorgeous, I wouldn't mind converting it into a wall of achievements)
My Special Photo Book
Prepare a photo book of their passions, interests, and people
Board of Happiness Activity
Prepare a "Board of Happiness". It is similar to the previous one, but a notice board allows you to have their achievements and their happy memory on display.
If you wish to explore this option you can check this post:
How to "Kids' Art Wall Ideas that Develop Coping Skills & Fight Anxiety"
Practice Positive Affirmations
Practice positive affirmations ⇐ the post I link to here will teach you ALL you need to know about positive affirmations. It shares benefits, situations when they may backfire, tips for beginners (adults, kids and kids struggling with anxiety) and a list of positive self-statements to download.
Achievements Diary
Keep a diary of achievements
Learn to Set Realistic and Achievable Goals
Set goals and make a plan to achieve them.
These are a couple of great posts on how to teach goal-setting to kids: SMART Goals for Kids and Goal-Setting Worksheets for Kids
Books About Self-Esteem Activities for Kids
Self-Esteem Activity Books
We can find plenty of ideas on how to work self-esteem and confidence with kids and teens in books.
I'm listing here my favorite ones:
Self-Esteem Books for Kids
The books I mentioned above are activity books.
But your child may also enjoy reading books about self-esteem and self-acceptance for kids!
This is a selection of great self-esteem books for kids, teens and even parents.
Independence Activities for Confidence Building
House Chores
Let them be responsible for their own house chores (we always talk about age-appropriate activities, but I would rather talk about developmentally appropriate chores. I´m a special needs Mom so I'd rather not be continuously reminded of how many "age-appropriate" chores we haven't yet achieved):

Pack your school backpack
Prepare your lunch box
Prepare your own little travel suitcase
Walk the dog
Run errands
Tip: A chore chart will help you set up these activities and keep them on task and motivated.
Problem-Solving Activities
Traffic Light Worksheet – this is a tool we use to help self-regulation, providing kids with simple problem-solving tips (red light: identify the problem I want to solve, yellow light: generate potential solutions, green light: choose and implement)
⏩ Check out more problem-solving activities for kids
Social Skills Self-Esteem Activities
The following communication /social skills activities will assist your child in developing social skills that may help improve their confidence
Assertive Communication Activities
Assertiveness is an important communication skill that will improve your child's social interactions and self-esteem.
We have a detailed post on this topic that includes a free assertive communication checklist.
Self-Introduction Activities
Self-introduction activities assist kids in:
developing confidence when meeting people in a new environment.
providing them with more opportunities to make new friends.
Check out our post on self-introduction for kids (tips and worksheets).
Role-Play Conversation Starters
This is another great activity to develop kids' confidence in interpersonal communication situations
Don't run out of ideas -> 68 Conversation Starters for Kids
Other Self-Esteem Activities for Kids & Teens
ALL the self-esteem activities below are included in your downloadable "Self-Esteem Worksheets" (free PDF at the end of the post):
The A to Z "Amazing Me" Challenge
Challenge your kids to write something awesome about themselves starting with each letter of the alphabet
My Inner Qualities Activity
This activity helps your kid reflect on those important inner qualities that you can't see from the outside but make them special.
Examples of inner qualities could be being kind, thoughtful, optimistic, brave, patient, friendly.
My Special Talents Activity
Ask your child to write a list of their natural talents.
If your child has problems with their own confidence they may feel there are not things that they can do well, so be prepared with examples of those special talents
Rephrase Low Self-Esteem Language
Practice turning negative and unhelpful thoughts into positive statements.
For example, if your child says:
"I am so dumb, I always make mistakes."
Help them rephrase that thought into something like:
"I am learning from my mistakes and I will keep getting better."
Time Management Activity
Teaching our kids skills that will make them feel more competent and boost their independence will add to their confidence and self-esteem.
I've included a time management worksheet in your downloadable PDF. It will help kids organize their homework and activities independently.
⇒ Did you find these tips and activities helpful? Then, you may want to check the Confident Kid Journal. This workbook captures most of the tips and activities we have discussed in this post.
⇒ Explore MORE helpful self-esteem activities for teenagers (55 activities).
You may also find these Coping Skills Activities helpful:
Fun Self-Esteem Activities for Kids & Teens: How to Build Confidence in Kids (PDF Download)
Download some of the self-esteem worksheets that we have mentioned!
You will receive the following worksheets:
A to Z Self-Esteem Challenge
My Special Talents Worksheet
My Special Qualities Worksheet
Rephrase Low Self Esteem Worksheet
My Planner