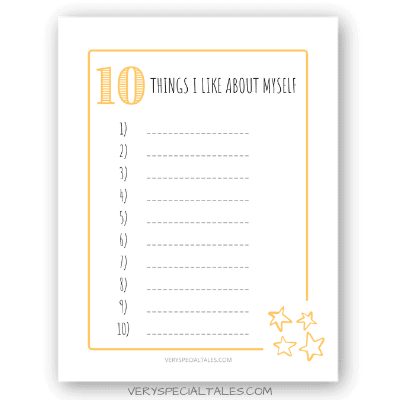 "Things I like about myself" Worksheets (Self-Esteem Worksheets for kids)
"Things I like about myself" worksheets: In this post, we will share a few self-esteem worksheets and activities themed "What I like about myself."
These worksheets and activities' objective is to help children and teens reflect on the good things about themselves (their inner qualities, their achievements, those little things that make them unique and special).
Self-esteem is the evaluation we make of ourselves, and it can range from low to high self-esteem ("I'm worthless" – "I'm worthy"). Self-esteem is how we feel about ourselves and our personal characteristics.
We are all unique and special.
We all have good qualities and unique talents.
But some kids struggle to recognize those good things in themselves.
Some of the roadblocks that prevent kids from fully recognizing their positive qualities are:
Low self-esteem that results in a tendency to:

Focus their attention on negative things that confirm their own negative views of themselves
Minimize the positives as if they are just "not a big deal" or something not worthy of praise

Feeling uncomfortable verbalizing their strengths and qualities, as they perceive that as "showing off"
Expecting to be perfect and feeling that they underperform unless they are the best ones
Related Reading: 24 Tips + 15 Self-Esteem Activities for Kids
Things I Like About Myself (Worksheets)
The worksheets below are a tool to help kids acknowledge their positive attributes.
Taking time to write down positive things about themselves allows kids to reflect and discover how incredibly unique and good they are.
These are some questions that may help them explore their positive qualities:
what are my special talents? (I'm a great swimmer, I run fast, I can speak two languages)
what have I achieved (big or small)? (I'm not scared of darkness anymore, I got a B+ in maths)
what am I good at? (I'm good at helping Mom, I'm good at solving problems)
what are my inner qualities? (I'm kind, I'm generous, I'm a good friend)
what things do I like when I look at myself?(I like my freckles, I like the way my laughter sound)
what do my friends/family like about me? (I say nice things to my friends, I help my friends at school, I'm fun to be with)
You will be able to download this "10 Things I Like About Myself" free worksheet at the end of the post.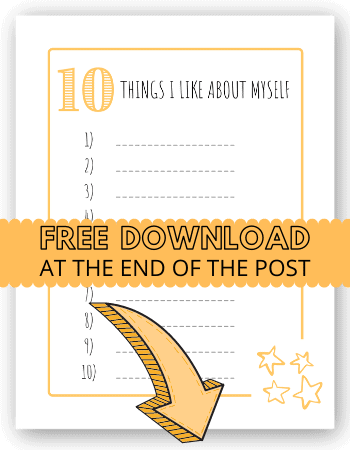 Sometimes, even when our kids are making their best effort, they still find it challenging to come up with a nice list of positive characteristics and talents.
The following ideas may help with this issue:
1) Create a checklist of great qualities and talents.
A list may help them consider characteristics that had not come to mind spontaneously.
2) Parent-Child "What I like about myself / my child" activity
This activity is my favorite one.
Grab a piece of paper and do this activity together.
Ask your child to write 3/5 things they like about themselves.
You will also write a list of 10 things you like about your son or daughter.
Then, you will both share and explore your lists.
It's a fantastic opportunity for your child or teen to listen to qualities that they may take for granted but are positives characteristics.
It is also an excellent opportunity for parents to devote some quality time to praising and encouraging the child.
These are a nice set of "What I like about myself" worksheets to help you with this project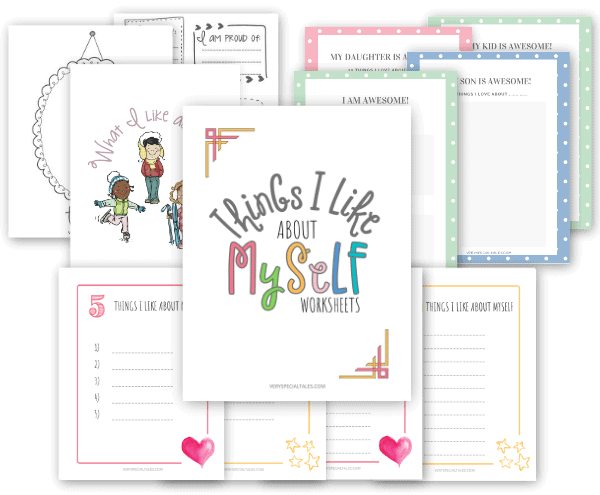 You can check them out HERE
Other Self-Esteem Resources for Kids
What I Like About Myself_ Free Download
Download your free "10 Things I Like About Myself" worksheet👇