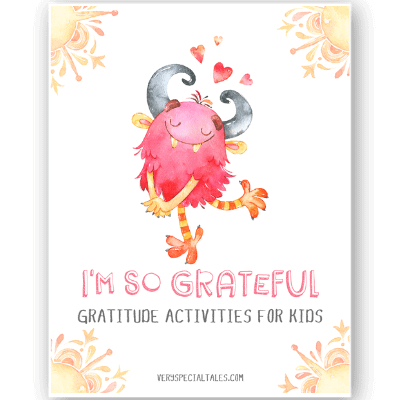 20+ Fun Gratitude Activities for Kids: Teaching Kids to Be Grateful
Gratitude for Kids: in this article, you will find more than 20 fun gratitude activities for kids (journaling, thank you notes, crafts, songs, books, and a lot more!). You will also learn evidence-based benefits of practising gratitude.
Gratitude, thankfulness, or gratefulness, is a feeling of appreciation for the good people and things in one's life.
Gratitude is an emotional state and attitude towards life that makes us more resilient and improves our wellbeing.
Psychology traditionally focused on negative emotions, so research on gratitude is relatively new.
But, gratitude isn't new. It has been identified and practiced by the major religions as a way to improve our lives.
Table of Contents:
Benefits of Practicing Gratitude
Gratitude for Kids

Tips of How to Teach Gratitude to Kids

20+ Gratitude Activities for Kids
Research on Gratitude
(Disclosure: We are a participant in the Amazon Services LLC Associates Program, an affiliate advertising program designed to provide a means for us to earn fees by linking to Amazon.com and affiliated sites. As an Amazon Associate, I earn from qualifying purchases. There may also be other affiliate links in this post. You can also read our Disclosure & Disclaimer policy here)
Benefits of Practicing Gratitude
So, why does everybody seem to be talking about gratitude these days?
There is a growing body of research that tells us that practicing gratitude may bring many emotional, mental and physical benefits to our lives.
Gratitude benefits may include
Feeling good about our lives
Optimism about the future
Higher levels of subjective wellbeing (life satisfaction, vitality, subjective happiness, optimism, hope, and positive affectivity)
Improved psychological health(fewer symptoms of depression and anxiety)
Fostering pro-social behaviors
Increased resilience
Better coping skills
Improved perceived physical health
Developing healthier habits, like exercising more exercise
More focus enabling effective functioning and goal-attainment
Improved social life/relationships – it helps us make new friends and strengthen our current relationships
Better sleep
As usual, a word of caution.
Research seems to indicate that, although practicing gratitude may be beneficial to improve our wellbeing, it has not been proved as an effective treatment for anxiety and depression. In those cases, disorders can be treated more effectively with psychopharmacological and cognitive-behavioral interventions.
Gratitude for Kids
It is important to integrate gratitude into children's everyday lives as a habit within your family, not just for special occasions.
Luckily, it does not need to be complicated.
Being grateful is like a muscle that we must continually work to develop.
When you find that the children in your life need to work out that 'gratitude muscle' then I encourage you to model and integrate some of the tips and activities listed in this article.
Tips of How to Teach Gratitude to Kids
Teaching your kids how to be grateful does not have to be difficult.
In fact, it can be an enjoyable exercise for everyone participating.
Here are some tips that help integrate the concept of gratitude in children's everyday lives and work out that 'gratitude muscle'
Be a role model
If you find yourself in the habit of expressing gratitude, you will find that your kids will mimic you.
Thank your children. Often.
Something as simple as expressing gratitude to the children in your life can be the most powerful way to teach them.
Maybe what they did was not the most helpful thing in the world (maybe they cleaned the sink with neon pink toothpaste), but you can still express that gratitude by a simple thank you.
Mention to another grown up in front of your children how thankful you feel about your child's acts of kindness.
A simple comment to another adult about how Johnny swept the kitchen floor for you could influence that child tremendously.
Integrate gratitude in your family routines.
You will read lots of ideas in the next section
Don't give them everything they ask for. Making an effort to achieve or receive something helps us value it more.
Let your kids help you thank someone else.
When you are expressing gratitude, involve the kids!
Whenever you choose to tell someone how important they are in your life, let them help.
Testimonial
"When I worked in summer camps and I was looking for a way to brighten up another counselor's day, I would get some campers involved in the fun! If I wrote a letter expressing gratitude, I would include a few pictures that campers had drawn. Then, while the campers were coloring, I could direct the conversation to help the kids express their own gratitude"
20+ Gratitude Activities for Kids
Helping children develop the habit of being grateful does not have to be a big, overwhelming task.
In fact, it is more effective to integrate tiny, bite-size portions of expressing gratitude throughout the day.
This can be done through casual conversation as well as simple activities like the ones listed below.
Gratitude Journal
Have your kids journal each day what they are grateful for.

(included in the GRATITUDE ACTIVITIES FOR KIDS Workbook. Click☝️to learn more…)

Tips 💡
1) Writing prompts for kids 👉 journaling prompts will be a great help when your kids start writing their gratitude journals.
2) Starting a gratitude journal will bring many other benefits 👉 Benefits of Journaling for Kids

Gratitude Prompts
This activity is great for younger kids that cannot journal on their own and are just beginning to think about the concept of showing gratitude.
Prompts can cover different topics: senses, people, or things to help kids develop gratefulness.
Whenever the opportunity presents itself (maybe a long drive or when you are waiting in the supermarket checkout), you can pull out these gratitude prompts and see what your kids have to say. Some examples of gratitude include:
I am grateful for these three things that I see
I am grateful for these three people
I am grateful for these three animals.
Get creative and you will learn a lot about your kids!
Start a Gratitude Challenge
This Challenges Kit includes a 7-Day Gratitude Challenge.
Thank You Notes
Teach your kids what a simple, yet amazing, act of thankfulness writing a thank you note can be.

(included in the GRATITUDE ACTIVITIES FOR KIDS Workbook. Click☝️to learn more…)

Gratitude Collage
A gratitude collage is like a journal, but for children that are more visual. You can cut out pictures from magazines or have them draw different things that they are grateful for.
Testimonial
"When I worked with children living in homelessness, this was a favorite activity because they could use it to express positive emotions when they may not have had the vocabulary to journal.
Since we met every morning for a short 30 minutes, I would have them draw one new thing that they were grateful for each morning then they would glue it to their poster board. We would continue this until the board was full then they could take it with them.
The gratitude journal helped shift their mindset into a more grateful mental space as well as increased their pride in their own lives. I always looked forward to doing this activity with other kids and now I integrate it into my own children's lives" Christine
Gratitude Wall
This would be like taking the gratitude collage to the next level.
You can use little notes, drawings, or pictures and display on a wall all the things the family, the class or the school is grateful for.
We call ours "the wall of happiness", and it is a mix of things we love and are thankful for, and achievements.
Create a Gratitude Bedtime Routine
Add gratitude to your bedtime routine.
Research shows that when people take the time to reflect on what they are grateful for then they develop the habit of practicing being grateful for everyday things.
So, what a better way to finish their day?
Bring Gratitude to the Dinner Table
Take turns to share with the family something that happened during the day that you are thankful for.
This Table Topic – Kids Conversation Pack can prompt opportunities for conversations about the people, places, and simple things for which we are most grateful for.
Write a gratitude letter to your family
Gratitude Drawing
Make a really nice drawing of somebody or something you love and you are thankful for having in your life.
Choose a charity of their choice with your kids and make a donation
It will be a great activity to reflect on how thankful we are about the things we have and how we can share with others in need.
Gratitude Reading
There are lovely books for all ages that can teach kids about gratitude and being thankful.
Check out the titles below:
The Thanksgiving Tree
I really like this activity.
Write on each of the colorful cutout leaves what or who are you thankful for, and watch your tree "grow" through the season.
And it can also be a great DIY arts & crafts activity for you to prepare at home.
You just need a tree branch and your own paper cut leaves.
A to Z Gratitude Challenge
Challenge all the family to find something you are thankful for, with each letter of the alphabet!
Gratitude Conversation Cubes
These question dice will help kids practice expressing how thankful they are for the good things in life.

Prepare Gratitude Rocks.
Preparing gratitude rocks is a great arts & crafts activity that combines gratitude, mindfulness and art therapy. All in one!

Random Acts of Kindness
Surprise breakfast for Dad
Buy flowers for Mom
Prepare a homemade gift for somebody you like
Help somebody with a chore, even if you were not asked for it.
Lend a book you love to a friend
Thank Mom or Dad for cooking your dinner
Check out our Kindness Challenge Free Printable!
And let's finish with …
Gratitude Songs for Kids!
Thankful by The Juicebox Jukebox
Gratitude Song with the Storybots, Starbeam & More! Netflix Jr. Jams
Thank You Song | CoComelon Nursery Rhymes & Kids Songs
Anything else you would add? Comment below!
Research on Gratitude
As I mentioned at the beginning of this post, there is a growing body of research that suggests that embracing gratitude in our lives may bring many benefits.
This is a selection of relevant research on gratitude and being thankful:
20+ Fun Gratitude Activities for Kids: Teaching Kids to Be Grateful