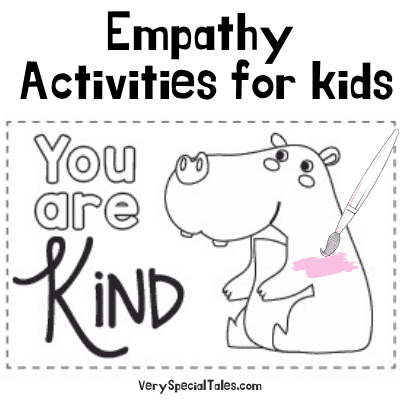 23 Fun Empathy Activities for Kids + (Printable) Kindness Challenge
How to Teach Empathy to Kids:
4 Tips + 23 Empathy Activities for Kids + Printable Kindness Challenge
Empathy Activities for Kids: In this post, we will explore tips, advice, and activities on how to teach empathy to kids. You will also be able to download a fun printable kindness challenge.
What is Empathy?
Empathy is the ability to understand or sense the feelings of others (people, animals).
Empathy has emotional and cognitive components:
Emotional empathy is the ability to experience another person's emotional state.
Cognitive empathy is the ability to imagine another's person's emotional experience.
For example, if a child sees his friend crying, emotional empathy motivates the child to want to help, but cognitive empathy brings the understanding that the other child is sad and may need to be comforted. (The Development of Empathy. Mcdonald & Messinger, 2011 )
The latter develops later, once children are able to understand that other people's perspectives and experiences are different from their own.
When does empathy develop?
Recent studies suggest that empathy may start developing at a very early age, with newborn babies displaying distress reactions, early precursors of empathic reactions, when exposed to the sound of another crying infant (Martin & Clark 1982)
By the age of two, toddlers engage in a range of empathic behaviors when somebody manifests distress, like:
facial expressions
displays of warmth and support/attempts to comfort (hugging)
verbal expressions of support (I'm sorry, what happened?)
Cognitive development develops later, once children are able to understand that other people's perspectives and experiences are different from their own.
Toddlers' prosocial behavior evolves from physical reactions to distress to verbal comfort and advice, sharing, and distracting the person in distress
(Source: Zahn-Waxler et al 1992a)
What factors contribute to empathy development?
Research suggests a variety of factors that may influence the development of empathy:
Genetics
Neural development
Temperament
Environmental or socialization factors
We may not be able to influence the first ones, but we can act on the environmental and socialization factors.
Why is it Important Teaching Empathy to Kids
Empathy plays an important role in our social and emotional development:
it may contribute to internalizing rules and learning right from wrong (Aksan & Kochanska 2005)
it promotes prosocial behaviors like helping others
it relates to social competence
it improves the quality and duration of friendships and relationships
(Disclosure: We are a participant in the Amazon Services LLC Associates Program, an affiliate advertising program designed to provide a means for us to earn fees by linking to Amazon.com and affiliated sites. As an Amazon Associate, I earn from qualifying purchases. There may also be other affiliate links in this post. You can also read our Disclosure & Disclaimer policy here)
How to Teach Empathy to Kids
Although some of the factors that affect empathy development seem to be predetermined, there are also socialization factors that we can influence.
In this section, we will share some ideas, tips, and activities that may contribute to developing empathy at home and school.
Helpful Tips When Teaching Empathy to Kids
1. Model empathic behavior
Develop a caring relationship. Research suggests that children whose parents displayed warmth towards them tend to be more empathic (Robinson et al. 1994; Zhou et al. 2002).
2. Teach your kids to understand and label emotions
Since empathy is the ability to experience and/or imagine other people's feelings, it won't come as a surprise that teaching about emotions will be an important part of our contribution to empathy development.
In Garner's research, labeling emotions and providing explanations about them were positively related to toddlers' attempts to comprehend how others felt and children's expressed emotional concern for others.
3. Validate your kid's emotions
Show them that their feelings are important.
Don't minimize what they feel.
Validating their feelings and showing them that you care is part of modeling empathic behavior.
4. Express your own feelings
Let your kids know how you are feeling and why.
Empathy Activities for Kids
Empathy relates to understanding others' emotions and being motivated to help. So, our empathy activities will fall into one of the following broad categories:
learning about emotions / recognizing emotions
acts of kindness
Learning About Emotions:
1. Ask the kids to draw feelings faces and discuss:
how the kids portrayed in their drawings feel
what may have caused those feelings.
2. Model emotions with playdough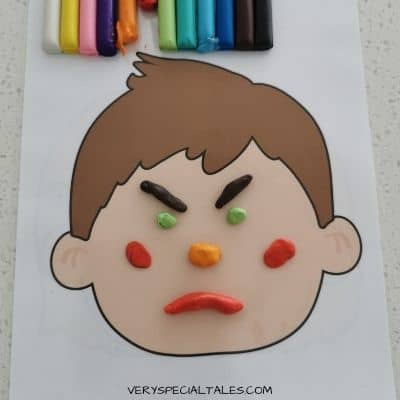 Modeling with playdough is a fun activity that may help kids work on their social and emotional skills, creativity, and fine motor skills.
In this case, we are focusing on the social and emotional parts of the activity.
You can use this activity to:
work on the recognition of emotions through facial expression
start conversations about feelings and emotions. For example:
"Let's make a happy face.
How do you know this kid is happy.
How do the eyes look?
And the mouth?
What about the eyebrows?"
We use these emotions playdough mats for this activity.
3. Play emotion charades
Emotions charades assist kids in:
communicating emotions using body language (players can't talk, so they need to act out their feelings)
learn to identify other people's emotions
We play this game with our Emotions Flashcards, but you can write down a list of feelings, cut them into individual pieces, and put them into a jar.
One player picks an emotion card from the deck.
The player represents the emotion for the other players to guess without using words. Take turns doing this.
4. Emotions Worksheets
Emotions worksheets are a fun activity to teach how to recognize emotions.
Our emotions and facial expressions bundle includes worksheets, emotions printable puzzles, and the emotions playdough mats we mentioned in our second activity.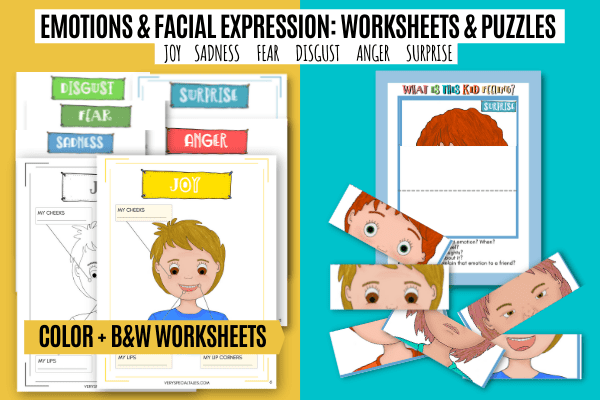 5. Use a feelings chart and have all the family share who they are feeling today and why.
6. Read stories and discuss how the characters are feeling.
7. Read books about empathy
This is a selection of books about empathy
8. Play emotions board games
Games like My Feelings and Happy or Not are great options to get the family (and the little ones) to talk about feelings.
9. Keep a journal, where you write about emotions
10. Feelings sentence completion activity
Write down sentences about feelings that they need to complete.
"When I see a sad friend, I …."
"I feel excited when …."
If you are running out of imagination, you may also buy sentence completion cards like these very cute ones⇓
11. Emotions Wheels Activities
Emotions wheels can be useful tools to support a range of emotional learning activities.
Our blog post on Emotions Wheels has three different emotion wheels for kids, and a few suggestions on how to use them to help:
Identify emotional states
Explore children's emotions in everyday situations
Start conversations about emotions
Express the intensity of their emotions
12. Help them take other people's perspectives.
Perspective-taking activities may be quite enlightening and help them reflect on how others feel about a situation.
Select a set of situations your kids or students may encounter:
Sarah makes a joke about how Sally's hair looks. What is Sarah thinking? How is Sally feeling?
Bobby eats the last brownie without offering half to his brother Tim. What is Bobby feeling? And Tim?
Anna invites Emma and Lilly for a playdate but leaves out Kathy. Why do you think Anna left Kathy out. How did Kathy feel?
13. Empathy Play / Drama game!
Role-play empathy scenarios with your kids.
You can take this activity to the ultimate level of "professionalism".
Have them dressed up.
Think about characters who may have a hard time at times at school (the shy one, the nerdy one, the loner, the new kid).
Have one kid play one of those roles and another one play being themselves.
Ask questions: How do you feel when you are one of those kids? What would they like others to do?
Ask them to swap roles and role play again.
How has the way you act changed? Do they understand the other person better?
14. Use Conversation Cubes to start discussions about friendships and emotions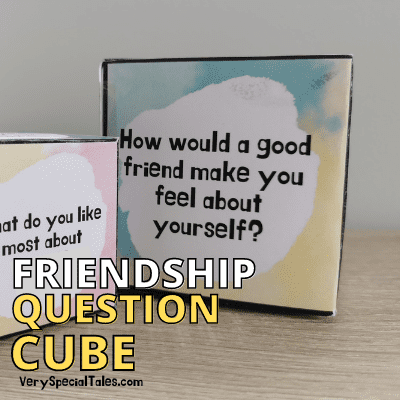 This is a really fun activity that we have been doing at home. We use conversation cubes to start conversations on different topics, including topics related to prosocial behaviors like friendship, gratitude.
What would you say to a friend who looks worried?
What would you say to a friend who looks sad?
Acts of Kindness (Download the kindness challenge at the end of the post)
Empathy motivates us to act and those acts often take the form of kindness.
These are some of the kind acts that you will find in your kindness challenge PDF download at the end of the post:
15. Help your busy parents with an extra chore
16. Write a thank you note to somebody to show them how much what they've done means to you
17. Donate nice clothes that you are not using much to help somebody in need
18. Help a school peer who seems to need a bit of support
19. Help Mom/Dad care for a sibling or a relative
20. Help a sibling /friend understand some school work that they find difficult
21. Say something nice to a friend who looks a bit worried
22. Share your favorite biscuit with your friend/sibling
Learn the value of sharing and how great this makes the other person feel.
23. Send a kindness note (kindness coloring notes are included in the kindness challenge download)
Articles About Emotions/Feelings
Download your Kindness Challenge
Ready to start with some of these activities?
This kindness challenge might be a good start⇓
Did you enjoy this post? Make sure you pin it for later!⇓