20 BEST Self-Esteem Books for Kids, Teenagers and Parents
Self-Esteem Books for Kids, Teenagers and Parents: In today's article we will explore a selection of great books to help kids (and parents) learn about self-esteem and self-acceptance.
Developing positive self-esteem helps kids become emotionally resilient.
There are many self-esteem activities for kids that can help them with this task (I will leave a few links at the end of this article)
But sometimes, the best way to start important conversations about topics like self-confidence, self-love or self-acceptance is with a good book in our hands.
Books enable us to dive safely into difficult topics and explore how our child feels.
Books also teach valuable lessons.
I've prepared a list of books for readers of all ages that deal with confidence and self-esteem, covering topics like being different, self-love, dealing with failure, positive body image, or accepting ourselves.
(Disclosure: We are a participant in the Amazon Services LLC Associates Program, an affiliate advertising program designed to provide a means for us to earn fees by linking to Amazon.com and affiliated sites. You can also read our Disclosure & Disclaimer policy here)
Best Self-Esteem Books for Kids
This is a selection of powerful picture books for kids up to 12 years old:
1. Train Your Dragon To Love Himself by Steve Herman
(Reading age 4 – 8 year olds)
A great book to teach kids about the importance of learning to love themselves!
This book is part of Steve Herman's amazing Dragon book collection that teaches kids social-emotional skills. In this book, dragon Diggory Doo worries about not being enough, so his human friend Drew helps him to understand that he is special and unique.
Tip: Teachers, school counselors, and psychologists often recommend the Dragon collection books.
2. It Just Blooms by Deanna Chesley (Author), Roksana Oslizlo (Illustrator)
(Reading age 3 – 10 year olds)
We're all different in this world – and that's a good thing! Which is exactly what It Just Blooms aims to teach young readers. This is a sweet story about a bunny called Blossom who feels sad when she can't do all the things her friends can do, until she discovers that everyone has their own special talents and unique abilities – and that she doesn't need to compare herself to others. From learning self-love to embracing ourselves as individuals, this book opens up plenty of opportunities for discussions with a wide range of readers.
Tip: It Just Blooms is the recipient of the Royal Dragonfly, Story Monsters Approved, and Reader's Choice awards! It has a message that children of all ages can benefit from.
3. Confidence is my Superpower by Alicia Ortego
(Reading age 8 – 12 year olds)
This is book five out of the six My Superpower book series, and is about helping young children to accept that challenges are a part of life. The main character is Leo, who comes up against some obstacles at school, but he soon learns that failure is often just a step towards success. With a rhyming story and beautiful illustrations, this is a fun book to read for children and adults alike – with an important message always to believe in yourself.
4. Stand Tall, Molly Lou Melon by Patty Lovell (Author), David Catrow (Illustrator)
(Reading age 3 – 8 years old)
Another great book from the Molly Lou Melon series, featuring the quirky character of Molly Lou Melon. In this adventure she starts a new school and draws attention from a bully who teases her. But instead of ignoring it, or fighting back, Molly Lou Melon is determined to shine bright and be proud of who she is. As well as the theme of self-confidence and accepting yourself, there is also an important lesson to be learnt on the subject of respecting others.
5. A Bad Case of Stripes by David Shannon
(Reading age 3 – 7 years old)
For those young children who are worried about what others think of them, they'll be sure to relate to Camilla Cream who loves lima beans, but will never eat them – because no one else at her school does. A vibrantly illustrated story by David Shannon with a unique storyline that delightfully tells the tale of how it's okay not always 'fitting in', and that being different is a good thing – because we all are!
6. It's Okay To Be Different by Todd Parr
(Reading age 2 – 6 years old)
A wonderful picture book by Todd Parr about diversity, inclusion, acceptance and self-confidence.
Each page starts with an "It's okay to…" and it goes on to explore all the ways we can be different, and that's okay!
7. Exclamation Mark by Amy Krouse Rosenthal (Author), Tom Lichtenheld (Illustrator)
(Reading age 5 -8 years old)

This is such a clever book! (I think parents will love it as much as kids).
It is the story of a punctuation mark (!) that makes huge (unsuccessful) efforts to fit in and blend until he discovers his own and unique awesomeness.
The story is simple but it delivers brilliantly the positive message that we all have awesomeness in ourselves and we just need to find it (You can check out the first pages in the Look Inside section of the book to have a better idea of what to expect).
8. I am Enough by Grace Byers (Author), Keturah A. Bobo (Illustrator)
(Reading age 4 -8 years old)
Grace Byers has created beautiful book that teaches kids to love who they are and embrace people who are different .
Tip: Top scores on acceptance, inclusivity and diversity! And delightful illustrations by Keturah A. Bobo.
A #1 New York Times bestseller and Goodreads Choice Awards picture book winner
9. Mindful Affirmations and Activities: A Kid's guide with 50 Positive Mantras and Activities to Manage Emotions, Grow Mindful, Strong and Confident by Pragya Tomar (Author), Michela Fiori (Illustrator)
(Reading age 6 – 12 years old)
Packed full of activities and positive affirmations, this interactive book is ideal to help instill confidence in children and at 153 pages long there's plenty to keep them busy. Because of the questions and worksheets, it also allows parents to be involved (perhaps assisting with the reading, or explaining what needs to be done on each page).
As well as the topics of self-love and self-worth, it also covers topics such as managing emotions and feelings, letting go of stress, and embracing creativity. A wonderful journal for all sorts of learning and growing.
10. The Magic Is Inside You: Powerful & Positive Thinking For Confident Kids by Cathy Domoney (Author), Karen Davis (Illustrator)
(Reading age 8 – 12 years old)
Main character Madeleine is a young girl who is struggling to control negative self-talk, but she soon learns that she has the magic inside of her to change her thoughts – it's just up to her to decide. This book has a wonderful way of weaving in the message of how powerful the mind can be, and that inner confidence can be learned at any age.
Tip: Bonus section includes suggested activities for parents, teachers and carers to use together with their children to develop positive self-esteem.
11. Stick Up for Yourself: Every Kid's Guide to Personal Power & Positive Self-Esteem by Gershen Kaufman, Lev Raphael, and Pamela Espeland
(Reading age 8 – 11 years old)
Recently revised and updated, this book was first published over 30 years ago (in 1990) and is a part of the Bully Free Kids™ line. Its focus is on helping to build healthy self-esteem and to encourage young children to speak up for themselves – to their peers, siblings and even grown-ups. What's also great is how the book touches on things such as effective communication and expressing feelings when faced with difficult situations (or people).
Tip: With practical, encouraging, realistic advice, this book is also recommended for parents, teachers, and counselors.
12. Hooray for You! A Positive Book to Build Self-Confidence in Kids by Marianne Richmond
(Reading age 2 – 8 years old)
It's never too early for children to learn about resilience and self-appreciation. A beautifully-illustrated picture book that is ideal for shy and insecure children, touching on the message that everyone is unique and special in their own way.
13. My Magical Words (The Magic of Me Series) by Becky Cummings (Author) , Zuzana Svobodova (Illustrator)
(Reading age 2 – 6 years old)
From the Magic of Me Series, this book teaches the power of words and how negative self-talk can impact the way we feel about ourselves. With an array of characters with whom every child could relate, the wonderful illustrations and lovely language will help young readers to understand what makes them, and those around them, special. Perfect for a bedtime story and opening up conversations around self-esteem and confidence.
14. Being Me: A Kid's Guide to Boosting Confidence and Self-Esteem by Wendy L Moss PhD
(Reading age 8 – 12 years old)
This last one is for older children, as it isn't a picture book (and is 112 pages). With 13 chapters, it covers everything from explaining what confidence actually is, to how to get through the 'tough stuff' and how to stand up for yourself. By helping young readers to understand how to manage their thoughts and feelings about themselves, it aims to encourage positive self-talk in order to grow resilience and self-esteem.
Tip: Mom's Choice Awards Gold Medal Winner in 2017
15. The Confident Kid Journal
This is our own confidence workbook for kids.
The Confident Kid Journal: a beautifully designed workbook for kids and adults that navigates everything you need to know to help your child in the journey to self-confidence.
The Confident Kid (Printable) Journal will guide you through worksheets and activities that can help your child: feel loved and connected, develop a sense of competence, become more independent, and deal with negative thoughts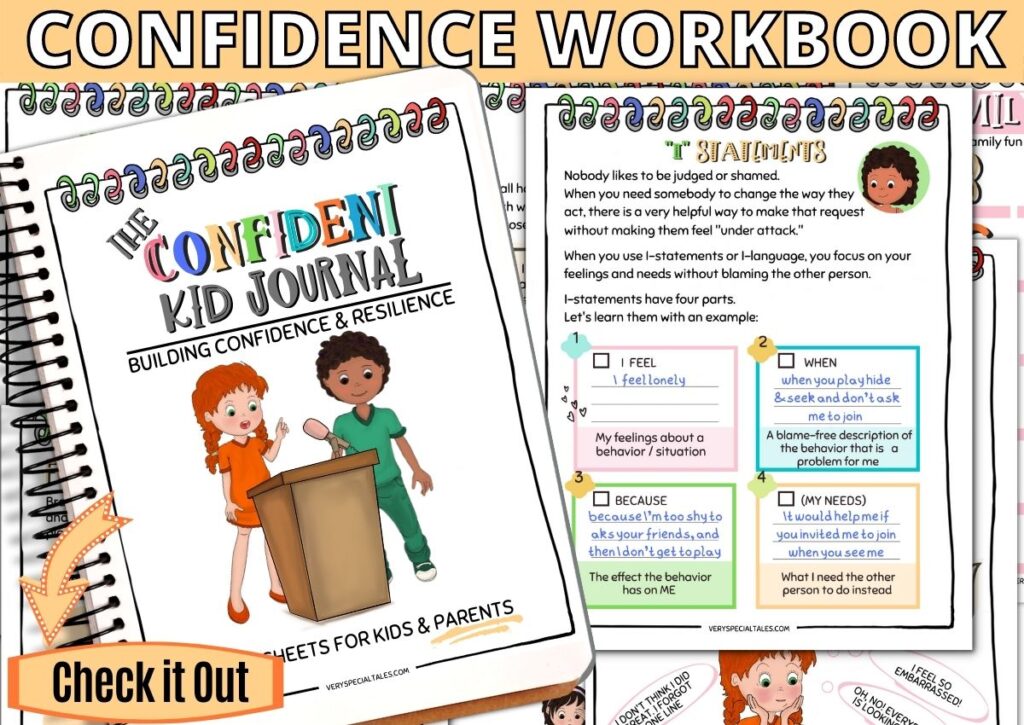 Best Self-Esteem Books for Teenagers
Let's move on now to some favorite books for teenage girls and boys.
16. The Ultimate Self-Esteem Workbook for Teens: Overcome Insecurity, Defeat Your Inner Critic, and Live Confidently by Megan MacCutcheon LPC
(Reading age 13+)
From real life stories from teens, to workbook exercises and other activities – this book was written by a licensed professional counselor (LPC) and is ideal for helping your teens to deal with some of the struggles of modern day life. Self-esteem can take a real hammering during those high school and college years, and this book aims to equip them with the right tools to combat self-doubt, build confidence and work through their insecurities.
17. The Self-Esteem Workbook for Teens: Activities to Help You Build Confidence and Achieve Your Goals by Lisa M. Schab LCSW
(Reading age 13+)
This is another activity-based book that many therapists, teachers and counselors use to help teenagers in schools. Self-esteem can often be confused with being self-centered, but this book is able to dispel those misconceptions, by teaching teenagers that they are allowed to be proud of their strengths and have the power to reach their goals by understanding their true assets as an individual.
18. Banish Your Self-Esteem Thief: A Cognitive Behavioral Therapy Workbook on Building Positive Self-esteem for Young People
(Reading age 10+)
This is a great book for preteens, perhaps as preparation for some of the confusion and self-doubt that crops up in teenage life. The rather complex topic of self-esteem and CBT (cognitive behavioral therapy) has been presented in a way that is easy to understand, with activities to help the reader learn about negative thoughts and feelings – and how to get rid of them. The main character is a 'thief' who likes to steal people's self-esteem, so for this reason, it's for a slightly younger teen audience.
19. Perfectly Imperfect: Compassionate Strategies to Cultivate a Positive Body Image
I wanted to add a book about healthy body image, because in a world saturated in social media, our teens (specially girls) are under extreme pressure to keep up with unrealistic image expectations.
Having a negative body image can affect our self-esteem, so it is vital for our teens to learn to accept and love their bodies.
Tip: This is not a book for kids (that's why I've not indicated reading age). But, it is an easy-to-read book (just 130 pages) that offers practical tips to work toward improving your body image. Great read for both older teens and parents who want to guide their teens through the struggles of body image issues.
Self-Esteem Books for Parents
20. Kid Confidence: Help Your Child Make Friends, Build Resilience, and Develop Real Self-Esteem
This book articulately touches on the fact that self-esteem isn't just a by-product of telling your child that they are special, but that it's actually a number of other elements which all need to be nurtured in order to have healthy self-confidence. Because this book presents these ideas in an easily-digestible way, you will discover how connection, compassion and choice are fundamental pieces of the self-esteem jigsaw puzzle, and you'll feel better equipped to help your child discover how to fulfill these needs.
21. Raising Good Humans: A Mindful Guide to Breaking the Cycle of Reactive Parenting and Raising Kind, Confident Kids
There's not one guide book (or a perfect one) for being a parent, but this book definitely has plenty of strategies to assist. While learning to teach our children how to be more confident and resilient, there's actually plenty we can learn too – especially when it comes to how our behavior can impact who they are and how they see themselves. It also comes with some really interesting science about how the brain works, in order to back up the book's advice and ideas.
Other Helpful Self-Esteem Blog Posts on Children's Self-Esteem
If you are looking for articles on children's self-esteem you may find the following posts helpful: