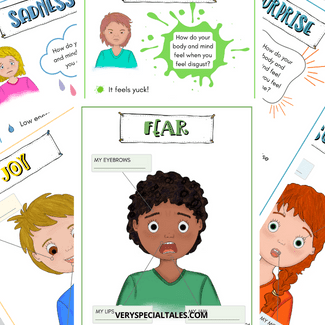 28 Fun Emotional Intelligence Activities for Kids
Emotional Intelligence Activities for Kids: fun activities to teach kids how to identify, understand, and manage their emotions.
The concept of emotional intelligence became very popular in the mid-90s when Daniel Goleman hit the New York Times bestseller list and stayed there for more than a year.
Goleman reflected on the fact that a high intelligence quotient (IQ) does not necessarily lead to success. And, research confirms that emotional intelligence, also known as emotional quotient (EQ), may be as important (or more) than IQ.
Research seems to support the benefits of emotional intelligence
Being able to identify our emotions and others', and to use them to guide our cognitive processes and self-regulate, can positively benefit many areas in our lives:
Quality of social relationships
Work performance
Mental health
Source: D.E.Grewal & P.Salovey in A Life Worth Living: Contributions to Positive Psychology
Emotional Intelligence Frameworks
Mayor and Salovey (1990) had already described emotional intelligence as the "ability to monitor one's own and others' feelings and emotions, to discriminate among them, and to use this information to guide one's thinking and actions."
Mayer and Salovey proposed a model of emotional intelligence comprised of four ability areas:
Perceiving emotions
The ability to identify accurately our own emotions and others'
Facilitating thought using emotions
The use of our emotions to facilitate thought. Analyzing emotional information may assist cognitive activities like reasoning, problem-solving, decision-making, and consideration of the perspectives of others.
Understanding emotions
The ability to understand emotions, connections between different emotions and how emotions change over time and situation.
Managing emotions
The ability to regulate our own emotions and help others with their emotional regulation.
Goleman's framework identifies 18 competencies organized into four clusters:
Self-awareness
Self-management
Social awareness
Relationship management.
For the purpose of the emotional intelligence activities that we will explore in this article, I will follow a similar framework, with five clusters that capture both the personal and the social dimensions of emotional intelligence:
Self Awareness: the ability to understand our emotions, our strengths and limitations, and how all those affect us and others.
Self-Regulation (or self-management): the ability to manage our emotions, cope with change or stress, manage conflict, adapt/be flexible
Self-Motivation: the drive to meet our needs and goals
Social Awareness: the ability to understand other people's feelings and needs.
Social Skills: the ability to interact with others (social skills include assertive communication and listening skills)
(Disclosure: We are a participant in the Amazon Services LLC Associates Program, an affiliate advertising program designed to provide a means for us to earn fees by linking to Amazon.com and affiliated sites. You can also read our Disclosure & Disclaimer policy here)
Fun Emotional Intelligence Activities for Kids
Let's explore now some great ideas to help our kids' emotional development while they have fun!
Self-Awareness Activities for Kids
The following emotional intelligence activities will explore emotions, personal strengths, and self-confidence:
1. Emotions Charades
Playing feelings charades gives kids an opportunity to display different facial expressions and body language to express different feelings. It's a great way to explore how people show their own feelings in different ways and to develop your child's emotional intelligence.
We use our emotions flashcards in our charades games.
2. Emotions Drawing
Ask your kids to draw faces with different emotions. For younger children, it can be as simple as emoji-like faces in different colors.
As they grow older they will be able to start adding more details and identifying the signs that indicate different emotions.
3. Emotions Pictionary
Play Emotions Pictionary. A player draws big feelings, and everyone else needs to guess the emotion
4. Emotions Worksheets
We use our basic emotions worksheets to explore basic emotions and facial expressions, and learn how each emotion feels in your body and mind.
(It includes six basic emotions: joy, sadness, anger, disgust, fear and surprise)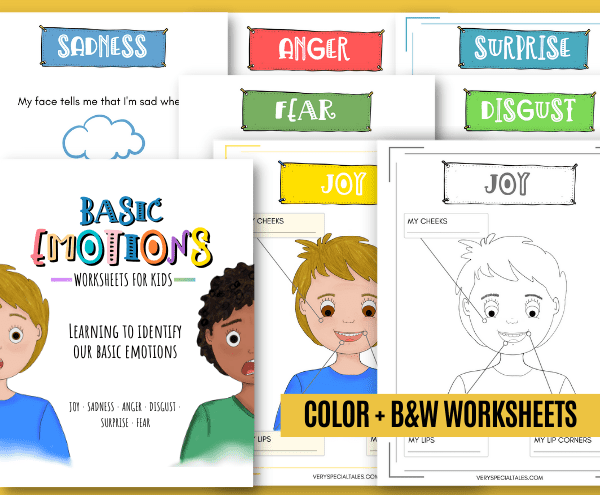 5. Feelings Journal
Journaling is a great tool to process feelings and develop our emotional intelligence. Taking the time to reflect on their daily lives in a safe space can help kids' interpersonal skills.
Our Cool Kid Journal is an example of a feelings journal for kids who struggle with angry feelings.
6. Spot the Emotion
Grab a magazine or a photo book and check how many different emotions you can you spot. How did your child or student identify each particular emotion?
7. Emotions Matching Game
We also use our feelings printable flashcards for this emotional intelligence activity.
Each time that we match a set, we read the emotions definition, and we ask questions about that emotion (When did you last feel that emotion? How do you recognize that emotion? How does it feel in your body?) It's a great way to learn different types of emotions and expand emotional vocabulary.
During the game, ask about their feelings and take a few minutes when you are done to reflect on how different parts of the game made them feel.
8. Model emotions with playdough
Modeling with playdough is a fun activity that may help kids work on their social and emotional skills, creativity, and fine motor skills.
In this case, we are focusing on the social and emotional parts of the activity.
You can use this activity to:
work on the recognition of emotions through facial expression
start conversations about feelings and emotions.
We use these emotions playdough mats for this activity.
9. Emotions Matching Game
We also use our Feelings printable flashcards for this emotional intelligence activity. Each time that we match a set, we read the emotions definition, and we ask questions about that emotion (When did you last feel that emotion? How do you recognize that emotion? How does it feel in your body?) It's a great way to learn different types of emotions and expand emotional vocabulary.
During the game, ask about their feelings and take a few minutes when you are done to reflect on how different parts of the game made them feel.
10. Personal Strengths Awareness Activity
Create a strengths list or inventory, and ask the child to highlight any strengths they have and display. Sometimes your own list will be able to capture in kid-friendly language great ideas and positive qualities that you wish a child to reflect on and were not captured in these lists above (behavioral strengths, cultural strengths.)
Self-Regulation Activities for Kids
Sef-regulation is the ability to manage your emotions, cope with change or stress, manage conflict, adapt/be flexible.
The following activities may help kids practice this emotional intelligence dimension:
11. Breathing Exercises
Deep breathing is one of the most important self-regulation strategies.
Breathing techniques are powerful tools to help kids learn how to cope with big emotions. Start by having them take deep breaths to release negative emotions. Ask them to picture their feelings in their minds and let their breath release them.
I have a very detailed post with different breathing techniques for kids.
12. 54321 Grounding Technique (Mindfulness Exercises)
Mindfulness practice can be a useful tool to help kids of all ages regulate their emotions and control their impulses and worries.
My favorite mindfulness activity is the 54321 Grounding Technique. It will distract your child from their anxiety triggers, help them focus on the present moment, and relax.
Ask your child:
Name 5 things you can SEE in the room
Name 4 things you can FEEL
Name 3 things you can HEAR
Name 2 things you can SMELL right now
Name 1 thing you can TASTE.
I have a specific post about the 54321 technique (it includes some tips and a free poster)
13. Mindfulness Adventure Walk
Get into nature! Taking a walk is a great way to quiet your mind and give time to reflect.
Mindful walking is a fun mindfulness activity to practice when you take your kids or students for a walk to and at the park.
Ask your kids to count every bird, insect, or any animal they see or hear on their walk. This enhances their senses and directs their attention to the present.
Choose a flower and let them smell it.
Recommended reading: 20 Fun Mindfulness Activities for Kids
14. Squeeze a stress relief ball with your hand / release it
The premise of this relaxation method is that physical relaxation will lead to a feeling of calmness. You tense and then relax your hand muscles until you start feeling relaxed (I sometimes give my daughter her squeeze ball before I tell her something that I know will not go down well!)
15. Hug tight a soft toy
One more tensing-relaxing exercise. You can also teach your kids how to "breathe in / hug tight / breathe out / relax", repeating this cycle several times till they start feeling calmer
Motivational Activities for Kids
We have described motivation as the drive to meet our needs and goals. These are some motivational activities for kids:
16. Positive Affirmations for Kids
Create mantras throughout your day to help you and your family be able to adjust their mindset. Write them in high-traffic areas like the kitchen fridge or on the bathroom mirror.
Some mantras that can help with emotional intelligence are:
I am kind, thoughtful, and a good friend
Our goal is to connect with others
I am always learning to be my best self
Take some time to sit with your family and come up with one or two mantras that will work for you!
17. Keep a Goal Tracker
Setting goals contributes to generating the drive to achieve.
There is a substantial body of research that suggests setting a goal helps us stay focused on the tasks and activities that will make us succeed while keeping our energy and efforts high.
A goal tracker is a must-have tool to help us stay focused and change strategies or increase practice if required.
Social Awareness for Kids
Social awareness can be described as the ability to understand other people's feelings and needs. It would include attributes like empathy (the ability to sense others' feelings and perspectives)
18. Gratitude Activities
Come up with ways for everyone to express gratitude in some way. It could be writing a nice note, making a special gift, or even keeping a gratitude journal.
Related: Fun Gratitude Activities for Kids
19. Start a One-Week Kindness Challenge
Kindness helps build positive and meaningful social connections. It also improves life satisfaction and happiness.
So, why not start a one-week kindness challenge?
Social Skills for Kids
Our social skills are a set of abilities that help us to interact with others successfully (social skills include assertive communication, conflict-resolution, and listening skills)
20. Emotions Role Play
I'm a big fan of role-play activities. In this case, it is a great opportunity to be able to express a wide range of emotions in a safe environment.
Write out different social situations that young children may encounter and then have your kids or students pick one. In a circle, have everyone read their situation and discuss as a group different ways to tackle that problem. These don't all need to be difficult situations since developing the positive emotions of others is a valuable skill. Some examples of what to write could be:
You just opened a present at your birthday party, and it's exactly what you wanted
You arrive at an amusement park, but your favorite ride is shut down.
Your friend wants to sit with a new group of people at lunchtime.
21. Conflict-Resolution Prompts / Emotions Story
Ask your kids or students to write a story based on a prompt (a type of difficult situation that the child may come across.)
They will need to come up with a good way to solve the situation using a variety of social skills as well as communication skills. It will also help them work on the understanding and expression of emotions, and how to use that information to solve the conflict.
Related: Conflict-resolution activities for kids
22. Practice an assertive communication style
Emotionally intelligent kids know how to express their opinions and needs while they respect other people's views.
Resources: Assertive Communication for Kids
23. Enjoy board games family time!
Spending a rainy afternoon with our family playing board games comes with a lot of benefits when it comes to social-emotional learning.
Board games are a fun way to learn important social skills in a safe space with a small group of peers or family members.
Some benefits of playing board games that can help kids' social-emotional intelligence develop are:
Better relationships
Expressing negative feelings in stressful situations
Learning how to have a proper emotional expression in a group setting
So, let's add an example of a social skills board game to our list:
Social Skills Group Activities (6 Board Games): These games target: morals, good manners, empathy, friendship, and emotional skills (showing emotions and managing emotions)
24. Friendships Activities
Brainstorm what makes a good friend.
Some ideas to mention: kind, helpful, talk nicely to people, don't exclude others, don't say ugly things about others.
25. Family Conversations
An important part of our social-emotional learning happens at home.
Discuss the highs and lows of the day at dinnertime. Everyone can share the best (highest) part of their day and the worst (the lowest) part of their day. In this activity, it's easy to ask then follow-up questions on how it made people feel in an easy way.
26. Listening Skills Activities: Whole Body Listening Activity
"Whole Body Listening" is one of the most popular tools to teach younger kids listening skills.
Whole Body Listening (developed by speech-language pathologist Susanne Marie Poulette)
teaches kids that listening engages all your senses:
Eyes on the speaker
Mouth quiet
Hands to yourself
Body facing the speaker
Brain thinking about what the speaker is saying
Note: be flexible, some students may have difficulties with eye contact.
Recommended Reading: Social Skills Activities for Kids
And these last two activities may cover several of the five dimensions that we have chosen as the structure for this article:
27. Reading Books
Reading children's books is one of my favorite emotional intelligence activities. Whether the book helps with self-regulation or learning different situations to help establish better skills, this is one of the best social-emotional learning tools.
28. Watching Movies
Watch a family movie and discuss the emotions displayed and how the characters deal with them.
One of our favorites is Disney's Inside Out, where Riley's full range of emotions start a journey that explores joy, sadness, anger, surprise, fear, and disgust. In this movie, kids learn how all emotions are important and necessary.
Pin for later ⬇️