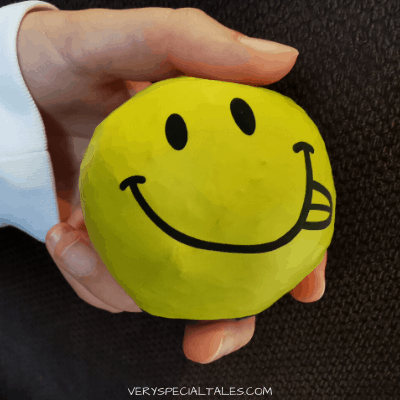 How to Make Stress Balls for your Kids in Just 3 Minutes
DIY Stress Balls with Balloons: 3 minutes is all it takes to prepare a homemade stress ball for your kids!
In this post you will learn:
Different benefits of stress balls
Two different ways to prepare your own homemade stress balls for kids using balloons
And don't miss my SMILEY stress balls at the end of the post ?.
(Disclosure: We are a participant in the Amazon Services LLC Associates Program, an affiliate advertising program designed to provide a means for us to earn fees by linking to Amazon.com and affiliated sites. As an Amazon Associate, I earn from qualifying purchases. There may also be other affiliate links in this post. You can also read our Disclosure & Disclaimer policy here)
What are Stress Balls?
Stress Balls are hand size ductile balls used as manipulative and/or therapy objects.
Squeezing and releasing the ball in your hand helps relieve tension and strengthens the muscles.
There are many types of stress balls. Textures and shapes vary depending on its intended use (therapy, stress relief, fidget toys, sensory inputs)
Stress balls used for physical therapy may be presented in different resistance levels that help gradually improve hand strength and grip.
Stress balls are also a very popular DIY / craft activity.
Homemade stress balls may be filled with flour, water beads, rice, play dough, dry beans, or lentils, just to mention some examples.
Related Reading: How to Use Fidget Toys to Help Focus in the Classroom
Benefits of Using Stress Balls
Stress balls are a lot more than stress relief tools. They are also a useful hand therapy tool used by physical and occupational therapists.
These are some benefits of stress balls:
Stress relief
Tension relief (tense and relax muscles by squeezing and releasing a stress ball.)
Hand, wrist, finger rehabilitation / Assist post-injury or surgery recovery
Improve muscle strength
Improve muscle tone
Reduce stiffness and joint pain
Improve grip strength
Improve fine motor skills
Sensory input (ADHD and autism)
Fidget toy (Improve focus)
Distraction Strategy (manipulating the ball in your had may serve as a distraction strategy when worried or anxious)
Arthritis / Stroke rehabilitation
How to Make DIY Stress Balls for Kids using Balloons
DIY stress balls are a very popular kids' activity.
We used them years ago to help my kid improve fine motor skills. And, they are also great fidgeting toys.
3 Minutes!
That's as long as it will take you to produce your own homemade stress ball.
I'm going to share with you two different techniques to prepare your anxiety ball:
Using a plastic bottle
Using a plastic bag (my favorite – it can't get any easier!)
I will also use a variety of ingredients (just for fun!)
And, as I mentioned before, you may use lots of other types of fillings. You will have an assortment of interesting textures for fun sensory inputs.
Dry pulses (lentils, chickpeas, beans)
Playdough
Water beads
Flour Stress Ball (using a Plastic Bottle and Balloons)
Materials:
3 Balloons
Flour
Plastic bottle
Scissors
Funnel (to fill the bottle with flour)
Balloon Pump (optional – you can easily inflate the balloon yourself)
Glue (optional – just in case you fear the flour may spill out)
Instructions:
Inflate the balloon, twist the top and hold it close so that the air doesn't come out
Fill the plastic bottle with flour using a funnel
Attach the balloon neck to the bottle neck
Turn the bottle upside-down and let the flour fill the balloon
Carefully let the air come out of the balloon
Cut off the neck of the balloon
Take another balloon and cut the neck off too.
Push the first balloon inside the second one, making sure you cover the hole in the first balloon
And, I repeat this step with a third balloon, just to be extra careful and prevent any flour spillage
(Optional) You may also add a little bit of glue to the balloon hole.
If you have any doubts, check out the video tutorial at the end of this post ?
Homemade Stress Ball with Rice (using a Plastic Bag)
Making stress balls using a plastic bag is easy and fast (probably the easiest and fastest way to do it!)
You'll have your own homemade stress ball in just three minutes.
Materials:
2 Balloons
Rice
Small plastic bag
Scissors
Glue (Optional)
Instructions:
Cut off the neck of both balloons
Put the rice inside the plastic bag
Shape it as a ball and close the bag by twisting it (this will be obvious in the video below)
Put the plastic bag inside the first balloon
And now place this filled balloon inside the second one making sure you cover the open hole in the first one.
(Optional) In the video below, I repeat this step one more time but it is not essential.
(Optional) You may add a bit of glue to the balloon hole – but it is not absolutely necessary. I've also prepared this without adding glue at the end.
Voila! Your DIY Stress Ball is ready!
You can make them as fun as you want. These are my smiley stress balls?
I prepared these ones with smiley balloons (the one with the pom-poms was just for fun, you can 't really squeeze it). I bought mine at my local supermarket, but they are similar to the smiley balloons here.
Would you like to buy them instead? There are some really fun squishy balls out there?
Other Anxiety Relief Tools & Tips