7 DIY Sensory Bottles Recipes: Oil, Glitter Glue, Water Beads & Hand Wash (Super Easy!)
We finally started our DIY Sensory Bottles project! And we love it!
Preparing a Calm Down Jar is a great arts & crafts family activity.
And even better, these bottles are amazing calming tools for anxious or angry kids.
To be honest, I´m not artsy-crafty (I´m actually quite bad at it!). But sensory bottles are so easy to make that even a 5-year-old could do it without too much help (at least some of the safest recipes)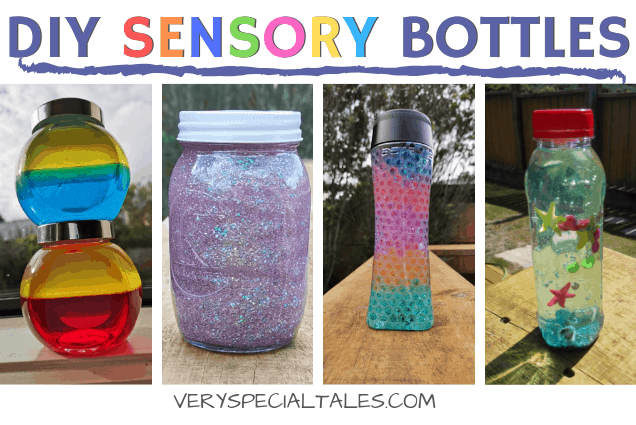 (Disclosure: We are a participant in the Amazon Services LLC Associates Program, an affiliate advertising program designed to provide a means for us to earn fees by linking to Amazon.com and affiliated sites. You can also read our Disclosure & Disclaimer policy here)
DIY Calming Jars that you will find in this post:
Liquid Soap
Glitter Glue
Baby Oil
Vegetable Oil
Water Beads
Glow in the Dark
Seasonal Sensory Bottles: Halloween & Christmas
What is a Sensory Bottle or Calm Down Jar?
A Sensory Bottle (or a Calm Down Jar) is a bottle or jar container usually filled with a liquid solution where different materials can float and flow creating a visually soothing and pleasant experience.
You can create lovely DIY Sensory Bottles with a variety of liquid solutions, like water, liquid hand wash, shampoo, baby oil or glue.
Sometimes, you will also find sensory bottles made with dry ingredients. I like the ones that you can use as rattles, as you will enjoy not only a visual sensory input but also an auditory input.
Why have Sensory Bottles / Calm Down Jars become so popular?
There are several reasons why calm down jars have become so popular. Sensory bottles:
can be used to help kids soothe or calm down
are often part of calm down boxes/kits
provide very nice visual sensory inputs
make a great arts & crafts activity. There are lots of DIY Sensory Bottles (different recipes) that you can prepare at home with your kids.
are easy to produce (and materials can be sourced pretty much anywhere)
and, they are just gorgeous!
Who may Benefit from Using Calming Jars
Calming jars may provide soothing or sensory benefits to:
Toddlers / young children as a sensory tool to explore their environment
Kids with autism using them as calming tools
Kids with anxiety
Adults with anxiety
DIY Sensory Bottle: How to Make Your Own Sensory Bottles
DIY Sensory Bottles are really easy to make. In this section, I will link to four recipes: Oil, Glitter Glue, Hand Soap and Water Beads. They are all fun and really easy to prepare.
(Update: Now in the Seasonal Section of this post – new Glow in the Dark Sensory Bottle)
4 DIY Sensory Bottles Recipes: Oil, Glitter Glue, Water Beads & Hand Wash (Super Easy!)
Super Easy Sensory Bottles Recipes
Tips for Absolute Beginners: Sensory Bottles 101
Buy a good adhesive remover like Goo Gone to remove the sticker/label from the bottle. I forgot it with my first bottle and I spent a good amount of time painstakingly removing glue with some kitchen cleaner and olive oil! I got some much clever with my second bottle. I used a bottle with shrink sleeve packaging, no glue!
Wait till you are happy with the result to glue the lid to the bottle. You may want to make some changes and improve it. But you definitely want to glue it if you have small kids.
I love Voss bottles for this project. But I couldn't get them where I live. So a very environmentally friendly compromise is to use bottles from your recycling bin.
These ones are also great if you wish your kids to add a sensory experience that includes smell, as they include vented lids
If you are preparing a calming jar for an adult you may consider using a nice mason jar instead. But you should obviously stick to plastic for the kids
I hope you have fun preparing your own DIY Sensory Bottles!
Buying Sensory Jars
Not everybody is into DIY projects. Nothing wrong with that. You may be too busy or just don't enjoy preparing sensory bottles yourself.
The good news is, you can also buy them!
Check out these ones here
Homemade Sensory Bottles for Every SEASON! (Winter, Halloween, Christmas)
Crafts ideas for kids for every season:
Other Calming Down Tools for an Anxious or Angry Kids
4 DIY Sensory Bottles Recipes: Oil, Glitter Glue, Water Beads & Hand Wash (Super Easy!)