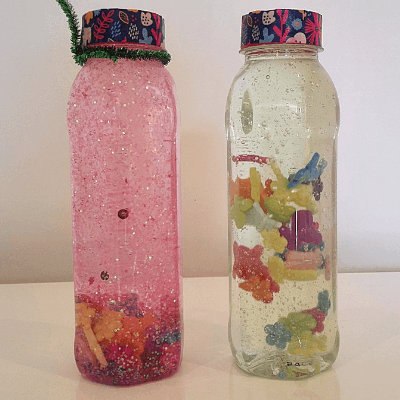 Sensory Bottles with Liquid Soap
Mess-Free Super Simple Sensory Bottles with Liquid Soap Recipe
A few months back I started a DIY Sensory Bottles project. This sensory bottle with liquid soap was my first recipe and also the easiest and most mess-free of all.
I started this project because I learnt that sensory bottles are great for kids with autism. It turned out, it was not just a great calming tool for kids with autism or anxiety problems. It has also been a super fun family activity.
Most of the recipes I've shared in this blog I've prepared with my daughter (she was doing her own because you obviously can't boss an 8-9 year old into abandoning her own creative ideas. Not that I would want to!)
Learn our easy mess-free sensory bottle with liquid hand soap recipe ☺️.
Sensory Bottle with Soap Recipe
For this recipe, we will take as a reference our "Ocean Magic Sensory Bottle".
We love the water turquoise color, and the way different beads and decorative motifs flow at different speeds.
There are two main reasons why this project is so absolutely mess-free:
we've used soap. Is there anything cleaner than soap ?
for this specific calming bottle that you see in the picture below, I didn't even use food coloring. I bought green liquid hand wash and I used it for this project.
Another thing I love about the recipe is that the bottom of the bottle looks like seabed, with a sand looking texture. This happens because most of the glitter ends up setting at at the bottom of the bottle and solidifies there.
And the air bubbles add the perfect final touch. ?
Ingredients:
Plastic Bottle (from the recycling bin! It can´t get more ecological than this!)
Tap Water
Transparent Liquid Hand Wash
For this project, I used green colored transparent hand wash. I wanted the bottle to have a Caribbean seawater feeling.
Decoration -beads, acrylic shapes
It works better if they are quite light so that they don´t fall too fast in the liquid solution. For our project, we used the ones in the picture below, but we removed the heavier beads after a first attempt.

Seashells
Starfishes (green & red)
Beads: pearls and red & green beads in different sizes
Turquoise colored discs
White & blue glitter
Food coloring
I didn't use food coloring because my hand soap was already colored. If you use colorless soap you will need to add a bit of food coloring.
Glue
Optional, but recommended if you have small kids and you want to glue the lid after you are happy with the results after it has all settled properly
Instructions
Fill ¼ of the bottle with tap water
If your hand wash soap is colorless add a few drops of food coloring
Add your decorative motifs and the glitter
Fill the rest of the bottle to the very top with hand wash.
Shake the bottle to mix the ingredients. Important! It won't look great at the beginning. The solution needs to settle first (keep on reading for more details)
Tips for Absolute Beginners: Sensory Bottles 101
Don´t worry if the liquid looks too murky at the beginning. When you first mix the ingredients the liquid may not look too nice and clean. This is normal when you mix the soap and water. And if you have added glitter, it gets even murkier! Give it a good shake when you first mix them but wait a few hours to see how it will look once the solution has settled. It will be just gorgeous.
Buy a good adhesive remover like Goo Gone to remove the sticker/label from the bottle. I forgot it with my first bottle and I spent a good amount of time painstakingly removing glue with some kitchen cleaner and olive oil! I got so much more clever with my second bottle. I used a bottle with shrink sleeve packaging, no glue!
Make sure the decoration you use (beads, shapes, etc.) is not too heavy for the density of the liquid solution you are using. If they are too heavy they drop too fast to the bottom of the jar.
Wait till you are happy with the result to glue the lid to the bottle. You may want to make some changes and improve it. After some time, the texture may get too thick. In those cases, I open my bottle and add extra water.
But you definitely want to glue it if you have small kids!
I hope you have fun preparing your own DIY Sensory Bottles with Soap!
Other Sensory Bottles in this blog:
Other Sensory Resources
Sensory Bottles with Liquid Soap