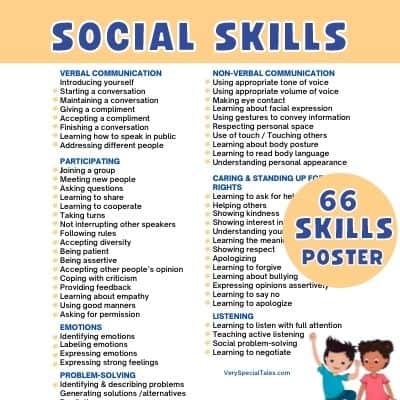 66 Important Social Skills for Kids (Printable PDF)
What social skills will my kid need to develop?
There are few parents or educators that have not explored at some point in time questions related to social skills for kids.
We wonder how we can help our kids with social skills.
We fear they may be struggling to make friends.
We get disappointed when they don't address their elders respectfully.
And for those of us with kids with special needs, lack of social skills is a reality that we need to work on every day.
In today's post, you will find a comprehensive checklist of social skills for kids that may give you ideas of areas you may need to develop or work on.
You will also be able to download a social skills printable PDF (poster size) at the end of the post.
(Disclosure: We are a participant in the Amazon Services LLC Associates Program, an affiliate advertising program designed to provide a means for us to earn fees by linking to Amazon.com and affiliated sites. You can also read our Disclosure & Disclaimer policy here)
What are Social Skills?
Social skills are those skills we use every day to communicate and interact in society, both verbally and non-verbally.
Why are Social Skills Important for Kids?
Social interaction is a key component of human learning.
Children learn about norms and acceptable behaviors through their social interaction with parents, teachers, and, later in life, peers.
Good social skills will help kids successfully interact in social situations, build positive relationships and have a better self-image.
Examples of Social Skills
The list of social skills that will help us succeed in social situations is long.
Different skills are interwoven to facilitate more complex ones.
Let's take as an example the skill "Being able to start and maintain conversations"
If we wish to train that skill in a kid or an adult, we will also have to train several different skills like:
Making good eye contact
Respecting personal space
Using open-ended questions
Active listening
Understanding Social Skills for Children
This post will capture a selection of more than 60 very important social skills that may help our kids (or us adults!) interact successfully in social situations.
Before we move into the checklist itself, let me explain how I have organized these sets of skills, to help you assimilate the enormous amount of information you will find in the social skills checklist.
You will find them organized in the following relevant sections:
COMMUNICATION
VERBAL COMMUNICATION
Verbal communication is the use of sounds to express yourself.
There are different types of verbal communication like interpersonal communication, communication in groups and public speaking.
NON-VERBAL COMMUNICATION SKILLS
Non-verbal communication may be as important as verbal communication. Social success may rely on occasions on non-verbal messages.
Non-verbal communication may:
-replace verbal communication in some situations
-complement, modify or contradict what we say in our verbal communication.
Non-verbal skills are divided into:
-body language (eye contact, posture, facial expression, personal appearance)
-paralanguage (voice tone, voice volume, voice inflection)
LISTENING
Listening skills are essential for effective social communication.
Have you ever been in a situation in which you are so focused on sharing your own views that you miss out on what is going on around you?
Or have you ever told your kids that hearing you is not the same as listening to you?
FEELINGS & EMOTIONS
Being able to identify, label, and express their own emotions and others' emotions is an important part of kids' social and emotional development.
PARTICIPATING IN GROUPS & SPEAKING UP FOR THEMSELVES
Have you ever looked at a kid and thought, he/she is good in one-on-one interactions, but he/she is lost in a group situation.
Groups have their own social rules.
Being part of groups, our kids also need to learn to speak for themselves, show respect, kindness but be able to stand their ground.
More on the topic: Assertiveness for Kids
PROBLEM-SOLVING
Problem-solving is a lot more than an academic skill. Maths is probably the first thing that comes to mind when most people think about problem-solving. Problem-solving in life and in the social context is a key skill.
Checklist of Social Skills for Kids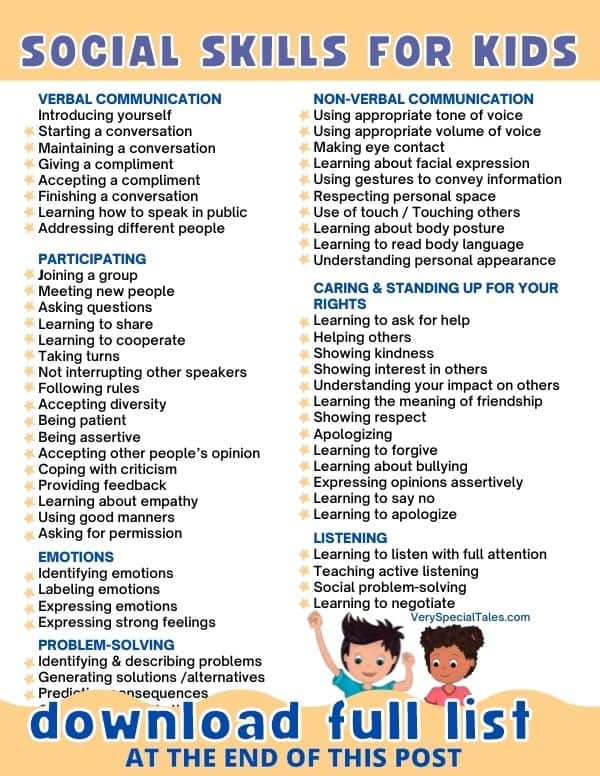 (FREE Social Skills for Kids Poster download at the end of this post!!!)
COMMUNICATION SKILLS
VERBAL COMMUNICATION
Maintaining a conversation
Giving a compliment
Accepting a compliment
Learning how to finish a conversation
Learning how to speak in public
Learning how to address different people (a peer, a teacher, the principal, a stranger)
NON-VERBAL COMMUNICATION
Using the appropriate tone of voice
Using an appropriate volume of voice
Making eye contact
Learning about facial expression
Using gestures to convey information
Use of touch / Touching others
Learning about body posture
Learning to read body language
Understanding personal appearance and "decoding" it
LISTENING SKILLS
Learning to listen with complete attention
Teaching active listening
Problem-solving in a social /group context
Learning to negotiate
FEELINGS & EMOTIONS
Identifying emotions
Labeling emotions
Expressing emotions
Learning to express strong feelings like anger appropriately
PARTICIPATING IN GROUPS
Joining a group
Meeting new people
Asking questions during conversations
Learning to cooperate
Not interrupting while others speak
Following rules
Accepting diversity
Being patient
Accepting other people's opinion
Coping with criticism
Providing feedback to other people's opinions
Using good manners
Asking for permission
TAKING CARE OF ONESELF & OTHERS / SPEAKING UP FOR YOURSELF
Learning to ask for help when needed
Helping your friends when they need help
Showing kindness to others
Showing interest in others
Understanding how others feel about the way you act
Learning the meaning of friendship
Apologizing
Learning to forgive
Learning about bullying and how to avoid it
Learning to express your opinions assertively
Learning to say no
Learning to apologize
Problem-solving in a social /group context
Learning to negotiate
Knowing what you can and can't share about yourself with others
PROBLEM-SOLVING
Learning to identify problems and describe them
Generating solutions /alternatives
Predicting consequences for those alternatives
Choosing the alternative that best solves the problem
Taking action to solve your problems
Learning to compromise
Understanding behaviors that can lead to problems
Other Social Skills Resources in this Blog
FREE Social Skills for Kids POSTER ⬇️
Get your free Social Skills for Kids Poster (fill in the fields below this picture)
Did you find this post useful? Don't forget to pin it to your boards 😉⇓
66 Social Skills for Kids to Succeed in Social Interactions