9 Social Skills Games: Fun Ways to Approach Social-Emotional Learning
Social Skills Games for Kids and Teens: In this post, we will review nine great games that will help develop social skills at home, at school, or in a therapy setting.
Social skills are those skills we use every day to communicate and interact in society, both verbally and non-verbally.
Children learn about norms and acceptable behaviors through their social interaction with parents, teachers, and, later in life, peers.
Good social skills will help kids successfully interact in social situations, build positive relationships and have a better self-image.
Are you looking for ways to help improve your child's social skills?
Consider social skills games.
(Disclosure: We are a participant in the Amazon Services LLC Associates Program, an affiliate advertising program designed to provide a means for us to earn fees by linking to Amazon.com and affiliated sites. As an Amazon Associate, I earn from qualifying purchases. There may also be other affiliate links in this post. You can also read our Disclosure & Disclaimer policy here)
Social Skills Games for Kids
Games are great tools to help social development.
Around the age of 6 or 7, kids start playing games with rules.
These type of games are a useful addition to their social development as they may require:
Cooperation
Following rules
Competing
Thinking about the other's point of view
Anticipating other people's actions.
In today's post, we will explore several social skills games that provide a safe outlet for kids to improve these much-needed abilities.
I've grouped these social games into the following categories:
Communication Skills Games
Emotional Regulation Games
Social Problem Solving
Participating /Taking Turns
With one exception.
I can't confine this first game in just one category because it is an extremely comprehensive social-emotional learning tool.
A life skills card game for social-emotional learning developed by Harvard Educators.
Topics are sequenced from childhood to adulthood by social and emotional learning competencies and mastery levels.
Social and emotional learning focus on several areas:
Self-awareness (examples of topics covered: recognizing emotions, rewards, creativity, dignity, self-reflection)
Self-management (examples of topics covered: patience, courage, taking risks, self-motivation, attentiveness)
Social awareness (examples of topics covered: expectations, gratitude, empathy, generosity, community)
Relationship skills (examples of topics covered: trust, asking questions, standing up for yourself, handling conflict)
Responsible decision-making
Diversity, equity, and inclusion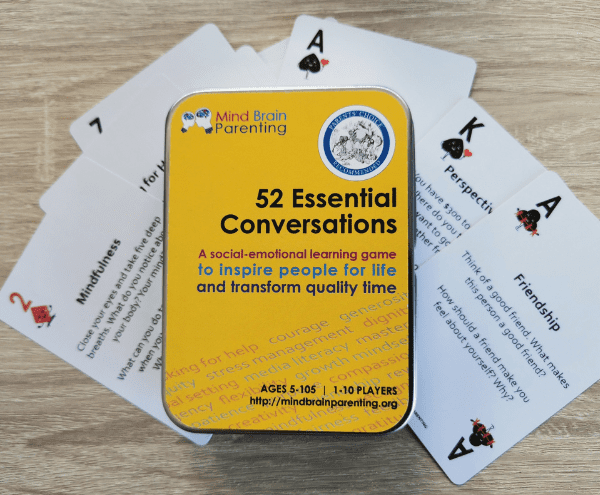 Why I like it:
It covers a wide range of topics and lessons that are important for our kids' social-emotional development
Great prompts for meaningful discussions
Simple to use, read the questions and start exciting and deep discussions.
It has been created based on research on social-emotional development
You can check it out on Amazon ⇒ HERE
Communication Skills Games
I've tried to cover a wide age range with two games that help build communication skills:
Conversation Cubes (ages 6+)
This game is a fantastic tool to help you dive into deeper conversations with your kids.
It is also a great tool to work in a therapeutic environment with kids with social skills difficulties, as rolling the die and reading the question somehow removes social interaction pressure.
The kit comes with six cubes, full of thought-provoking questions.
Why I like it:
It addresses some essential social skills like:

conversation skills
listening skills

There is a mix of questions, some general ones, and others about feelings
Tips:
Younger kids may find some questions too abstract / you may need to reword them
If you are working with kids with learning disabilities, you may need to read the questions for them.
You may also want to check our "Roll the Question Dice" activity.
Chill Chat Challenge (14 years and up)
This social skills game is an excellent tool to develop conversation skills and deepen communication within the family by asking various questions to get to know everyone better.
It covers three types of topics:
Chill: easy and casual topics (music, fashion)
Chat: conversations about current affairs, social media, and past experiences
Challenge: more complex themes, like ethics or personal issues
Why I like it:
It is a great way to start conversations with teenagers.
It facilitates connection through sharing all types of stories (funny stories, secrets, opinions)
It provides a variety of topics, ranging from easy to more in-depth questions
Works well both at home, in the classroom setting and in therapy.
Emotional Regulation Games
CBT-123 (ages 7 to 15)
This hilariously fun card game empowers kids to take control of their thoughts, feelings, and actions.
It's a straightforward game to play. You pick up three cards and act out the funny situations.
For example:
Card 1: Tell about a time you only looked at the negative of a situation …
Card 2: …to an imaginary friend…
Card 3: … while patting your head
Why I like it:
It allows kids to explore their feelings and action while being "silly," so it takes the pressure off the situation.
The Mindfulness Game (age 8+, teenagers & adults)
Designed by teachers, the Mindfulness Game is an engaging card game that makes mindfulness fun.
Why I like it:
It makes mindfulness fun for kids and teens while it teaches concepts and techniques.
Designed for teachers and therapists (but some parents find them helpful too)
Tip:
This game works better with groups
Some of the activity cards have "losers". For example, you are doing a quiet meditation and need to sit still. The first person to move is the "loser". Some therapists don't like the idea of having a loser. If that is your case, don't add this layer to the game (just cross it out in the card).
Many kids, though, may enjoy the competitive aspect. And since my angle in this post is social skills building, I think it works fine.
Don't Go Banana's (ages 6 to 12)
This social skill game is excellent for kids six and older. It was designed by the ABCD Model of Cognitive Behavioral Therapy to help them identify what triggers their emotions, explore their reactions and analyze their beliefs and thought patterns.
Why I like it:
Identifying, labeling, and expressing our emotions (and others') is an essential part of kids' social and emotional development. This game explores five important emotions (anger, sadness, worry, fear, and jealousy) and teaches emotional regulation skills
It's a fun game (similar to UNO) with open-ended questions
Tip:
You can remove cards if you feel it needs to be easier for your kids or the age group you are working with
Superhero Strengths (ages 6 to 14)
Calling all superhero fans! We have the best social skills game for you! It is super fun for kids ages 6-14, but it helps kids recognize different strengths among people and develop their coping skills. This is a great game to develop emotional intelligence, and I think that every kid should play it at least once.
Why I like it:
It works on building skills like:

understanding your strengths and others'
dealing with feelings
building coping skills
building communication skills
improving resilience
building confidence

Instead of using it as a game, you can also use it as a guide to discuss important issues for kids social-emotional learning
Superhero theme, we are all superheroes!
Social Problem-Solving Skills Games
What Should Danny Do? (3 years and up)
Okay, this isn't a game in the traditional sense, but it is too good to be left out of my list.
In this interactive book, you help Danny make the best choices for his day. With nine stories in one, you can try out different scenarios over and over to help you create some interesting conversations in your family.
I've included this book in the social problem-solving category because it deals with making choices, considering your alternatives, and predicting the consequences.
Why I like it:
It helps kids understand how their choices shape their days (and lives) and explore how different choices lead to different consequences
It helps them understand that you can't control other people, but you can control your choices
Empowers kids to make positive choices
It teaches about responsibility and accountability
Would you like to learn more about this book?
Check out this 👇 video. Ganit Levy, co-author of What Should Danny Do, shares a sample reading of her book. You can get your book from HERE.
Participating / Taking Turns
The beauty of the "participating" and "taking turns" skills is that you can practice them with any game you have at home.
But to give you another idea:
Conversation balls (7 years and up)
Conversation balls are great tools to help kids know about each other. There are several ways to play with them. You usually toss the ball and look under your thumb the question you need to answer.

You can choose one of the questions and toss the ball around so that the kids wait for their turn to answer that question.
⇒ Check out 25 Turn-Taking Activities for Kids
Other Social Skills Activities and Resources
Our post about social skills activities for kids will be a useful addition to our social skills game list.
And, don't forget to check out our:
Are you ready to start playing?
♥Pin Me! ♥