68 Conversation Starters for Kids: Fun Questions for Greetings, Compliments, Sharing, Joining In and More!
Conversation Starters for Kids: Help Your Kids Build Lasting Friendships and Meaningful Connections with these Simple Conversation Starters
When we look for ideas on how to start meaningful or fun conversations with kids we find plenty of suggestions for family conversations or dinner table conversations.
I wanted to approach this article from a different perspective.
I wanted to focus on children who struggle to initiate conversations or make friends. Kids who are uncomfortable in social situations and need ideas on how to start conversations with their peers.
You will still find here plenty of conversation topics for a parent-child chat, but my focus was on providing conversation starter questions for kids in everyday social situations.
An easy way parents, carers, teachers, and health professionals can help kids who have difficulty with talking to other kids is to teach and practice conversations starters.
If you would like to support your kid's emotional development and equip them with lifelong conversation skills, this article contains all the elements you need to get started.
Table of Contents
What are conversation starters
Why do children need conversation starters
What happens when a child lacks conversation skills
When can children benefit from conversation prompts
What happens if it is too difficult for your child to remember those conversation topics
68 effective conversation starters for kids ( greetings, getting to know you, compliments, and more!)
What are conversation starters for kids?
Conversation starters are a series of prompts that provide questions and comments children can use to talk to others in a positive, interactive manner.
Typically, they cover a wide range of topics.
Grouping them together under the following categories makes choosing the right prompt simple and straightforward:
Greetings — how to say hello, introduce yourself or make the first move
Getting to know you/curiosity — asking questions about the other person's circumstances, preferences and recent activities
Compliments — Giving positive attention to the other person as a launch pad for conversation
Joint attention — Pointing out a shared experience as a way to interact
Joining in — Asking to participate in an activity with another person or group
Sharing and empathy — Offering or asking for help, or asking about the other person's feelings
Why do children need conversation starters?
While a lot of children find social interaction with other children easy and instinctive, others do not.
Like any other skill, the art of conversation can be taught.
It is important that children have good communication skills as being able to speak fluently will influence all aspects of their life.
Conversation starters teach kids the art of communication which helps kids make friends, be heard, ask for what they need, and develop strong relationships with others.
Good conversation skills also improve reading, writing, and spelling, and are an important part of a child's social and emotional development.
What happens if children lack conversation skills?
Without the ability to communicate effectively, children may struggle with a sense of belonging, collaboration, empathy, and assertiveness.
Kids with communication difficulties may be more likely to have behavioral issues, low self-esteem, and lack confidence.
Sadly, not being able to speak up may also make a child a target for bullying.
When can kids benefit from conversation starters?
Teaching conversation starters to children gives them the ability to make a meaningful connection with other kids in any social situation.
Circumstances when knowing what to say might come in handy are:
Starting a new school
Finding people to play with in the playground
Introducing yourself to a new kid (or being the new kid)
When someone looks sad and upset
When coming back from holidays (or heading off on one)
Starting a new team sport or group hobby
Meeting relatives for the first time
When should you avoid using conversation starters?
Sometimes children may find remembering a conversation starter in an already stressful situation is impossible.
They may also fear that if they don't get the words right, they'll mess up everything.
It is important to emphasize that the questions and topics are only suggestions and that any effort is better than none.
You can start with just introducing the concept of open-ended questions — beginning with "who, what, when, where, why, and how".
This type of question will also prevent one-word answers that may cut short their conversation attempt.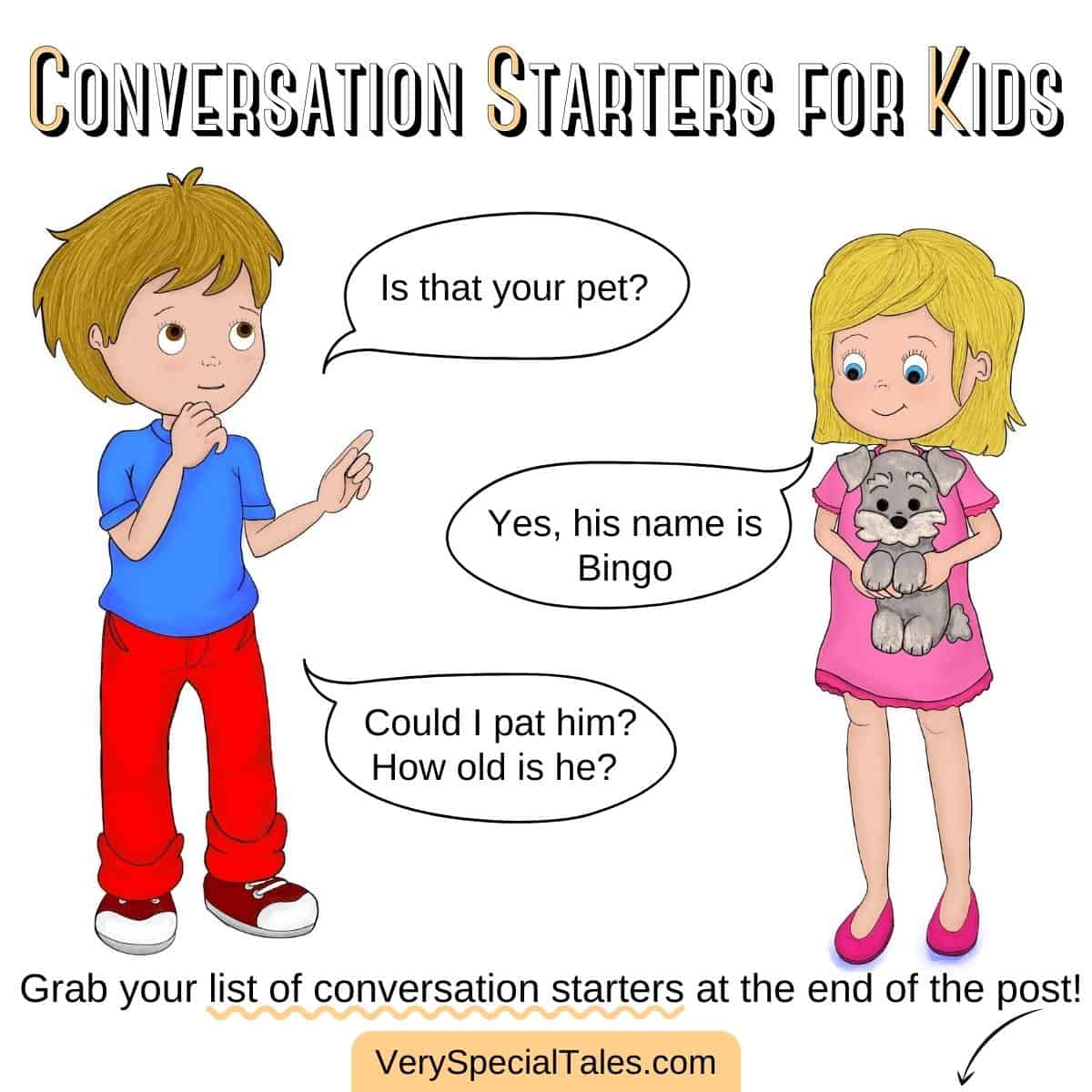 Best Conversation Starters for Kids
Looking for fun conversation icebreakers?
This is a list of conversation starters that will help kids kick off an interaction in different situations.
Simple questions without a right or wrong answer that may start fun and interesting social interactions.
Greetings
My name is Jane. What's yours?
How are you? I'm a bit nervous because I don't know anyone. Who do you know here?
I don't think we've met before. My name is Jane. What's your name?
My name is Jane. May I join you?
I'm Jane and I live in Hamilton. Where are you from?
You look like you're having a lot of fun so I wanted to come and say Hi!
Getting to know you/curiosity
What do you like most about school?
If you could have any animal for a pet, what would you choose?
When is your birthday?
What's your favorite thing to do on the weekend?
Do you collect anything?
What is your favorite food / dessert?
What is your favorite candy?
What is your favorite movie / favorite tv show?
What is your favorite cartoon character?
What is your favorite song?
Do you have chores at home?
What is your favorite chore? And your least favorite chore?
What is your favorite ice cream flavor?
What country would you like most like to visit and why?
Do you like reading? What is your favorite book?
What is your favorite game? (or board game)
Do you have a pet? Tell me about it.
What is your favorite place in the world?
What qualities do you like in a best friend?
What is your favorite day of the week?
Do you like playing video games?
What is your favorite subject?
What is your favorite joke?
Would you like to hear the funniest joke? (make sure your kid has a fun joke to tell)
What is your favorite part of the day?
Do you have a favorite teacher?
Do you play a musical instrument? Which one?
What kind of music do you like?
What is your favorite toy?
What is your favorite thing to do outside?
What is your favorite season and why?
Compliments
I love your hair. Who does it for you?
Your dress is pretty. Is that your favorite color?
I like your book. What is it about?
Cool shirt. Have you seen the Star Wars movie? (swap "Star Wars" for any other theme relevant to the piece that was complemented)
Your performance in class was awesome. How long have you played the piano?
You have amazing handwriting. How do you keep it so neat?
Joint Attention
Look at the queue for the bus. Is it always like that?
What a weird noise. Do you know what it is?
They are cutting the grass on the oval. Do you play sport there?
Your foot looks sore. What did you do to it?
It's so shady under this tree. Do you always eat lunch here?
Joining In
Do you have time to talk?
What are you doing?
Can I play?
Do you mind if I join in?
Is there room for one more?
Can you show me how this works?
Sharing and Empathy
You look lost. Can I help you find where to go?
Can you help me reach that book on the top shelf, please?
This math problem is hard. Can you help me?
You look sad. Can I do anything to cheer you up?
How did you go on the test today?
Can you watch my bag while I grab a drink?
Other Fun Conversation Starters
If you were a superhero, what super power would you like to have?
Who do you think is the nicest person in school?
What is your favorite holiday plan?
What is the nicest thing anybody has ever told you?
What has been your most embarrassing moment ever? / Tell me an embarrassing thing that has happened to you
What is the craziest thing that has ever happened to you?
What would you do if you could be invisible for a day?
If you found a gene while playing in the garden and they granted you three wishes, what would you wish for?
Other Social Skills Posts
(PDF Download) List of Conversations Starters for Kids
By teaching your children simple conversation starters and practicing them at home, your kids will feel more confident the next time they speak to another child.
Keep a copy of this comprehensive collection of communication prompts on hand by downloading your printable conversation starters: