55 Anger Management Activities for Kids: How to Help an Angry Kid
Anger Management Activities for Kids:
38 Activities & Strategy Cards + 14 Anger Games + 3 Anger Worksheets
Finding anger management activities for kids that work well is essential when your child (or one of your students) has anger management problems.
This post is for you if you have been asking yourself some of these questions:
How do I teach my child to control his anger?
What activities could teach him/her some coping skills for anger?
How do I deal with an angry student?
My 10-year-old son has special needs. He has been struggling with his feelings of frustration and anger triggered by our relocation to a new country.
We work on anger management and coping skills at home regularly. We are not new to this, but we are currently getting our best results ever.
In today´s post, I will share the anger management strategies we have practiced and some very useful tools like an anger scale for kids, specifically a 5 point scale for anger.
These strategies and tools are helping us build some anger management skills for our kids.
Post Index:
How do you explain to your kid what anger is and its function?
How angry am I? Emotion Charts / Anger Scales for Kids: A 5 Point Scale for Anger
54 Anger Management Activities for Kids:

30 Anger Management Activities to Practice with your Calm Down Cards
Breathing exercises, "burning energy", distracting from anger triggers, relaxation, and other techniques
8 Fun Anger / Emotions Activities
14 ANGER GAMES (Fun Anger Activities)
3 ANGER WORKSHEETS (Educational Anger Activities)
Calming Down Cards- Free Download
(Disclosure: We are a participant in the Amazon Services LLC Associates Program, an affiliate advertising program designed to provide a means for us to earn fees by linking to Amazon.com and affiliated sites. You can also read our Disclosure & Disclaimer policy here)
1. What is anger? Why do we feel angry? How do I explain anger to my kids?
Before we start teaching anger management activities for kids, we need to talk to our kids about anger.
There are some anger facts that you can explain to your children:
Anger is an emotion. When I feel angry I may feel irritable, tense, and anxious. I may also have negative thoughts.
Anger is not bad.
Anger has a function: your body is telling you that something is bothering you.
We all feel angry sometimes. Mum and Dad also feel angry sometimes.
At home, we all share examples of situations in which we have felt angry.
And my son just loves Everybody Feels Angry!. I think he can really relate to these kids´stories.
We can learn ways that help us control our anger.
Sometimes we will need to solve a problem. Some other times we will not be able to fix what is bothering us, or we will not know exactly what is causing these feelings. In those cases, we can still learn ways that help us control our anger.
If you need more ideas on how to explain anger to your child, we always use these two books to work on anger management:
It´s an amazing resource (Winner of 2008 Mom's Choice Awards Gold Recipient: Self-Improvement).
It is a book for you to read with your child. It provides examples and metaphors to help kids understand thier anger and how it affects them.
"A Cool Kid Journal" (Anger Management Workbook + Journal + Calm Down Cards ⇒ All in One!)
We have recently developed A Cool Kid Journal. This anger workbook explores everything you will read about in this post:
Understanding my Anger
Coping Strategies for Anger (11 categories that break down into 70 strategies)
70 Calm Down Cards (one coping card for each coping strategy suggested in the previous section)
⇒ More recommended reading on "Anger Management for Kids":
2. How angry am I? Emotion Charts / Anger Scales for Kids: a 5 Point Scale for Anger.
Your next step should be to help your child express anger and to talk about the different degrees of anger.
In order to help our children express how angry they are (or how happy!), we use an anger scale for kids.
Visual scales are used not only within the scope of special needs but also with children in general.
Visual scales or Emotion Charts provide kids with clues that help them express the intensity of an emotion, feeling, or sensation (anxiety, anger, pain …)
We use a 5 Point Scale for anger, and for each level, we discuss how we felt on that specific level (1 happy / 5 extremely angry) and how it shows.
I believe this step is a very important part of a successful anger management intervention.
If you want to learn how to use emotion charts effectively I recommend you read my post:
In that post, I give suggestions on how to use this tool and some ideas on how to approach an "action plan" with your kid (or student). You will also be able to download two feelings thermometer templates.
Other useful resources:
3. What are Anger Management Activities for Kids?
Anger management activities for kids are structured tasks, games, worksheets or exercises aimed to develop anger coping skills by teaching:
Relaxation methods
Problem-solving abilities
Ways to divert attention from anger triggers or situations
Self-regulation
Emotion recognition
Anger management strategies adapted to specific situations
How to appropriately channel feelings of anger
The 51 anger activities that I will be sharing in the next section include:
30 Anger management activities and strategies for kids (all these activities are included in the printable calm-down strategy cards)
5 Anger / Emotions activities
14 Anger Games (Fun Anger Management)
2 Educational Anger Activities for Kids: Anger Worksheets
Calm down strategy cards to support those activities/strategies and self-regulation (Visual Support)
30 Anger Management Activities for Kids
(breathing exercises, "burning energy", distracting from anger trigger, relaxation, and other techniques)
Before we go through our anger management activities:
TIP 1
Brainstorm and discuss all the things you can do when you are at each level of the emotions chart or scale.
For levels 1 and 2, since your kids are quite happy, they just need to keep on doing whatever is working for them.
When it comes to levels 3, 4, and 5, you need to build a menu of anger management activities that will help your kids calm down and control their emotions.
The objective is to help them build anger management skills.
TIP 2
Remember to practice the anger management activities you have chosen when your kids are calm and happy. You will not be able to teach them to "stop, think and solve" (just an example) in the middle of a tantrum.
They need to start to automate that sequence in a happy context.
The list below is our own list. You are welcome to download our "30 Anger Management Activities for Kids" booklet (it comes with visual clues/ pictograms!). You will see the link at the end of the post.
Must-Try Anger Management Activities for Kids to Practice with your Calm Down Cards
Ask Mommy for help
Exercises that help us relax (breathing exercises):
Breathing exercise 1: pretend you are smelling a flower /pretend you are blowing a candle
Lazy 8 Breathing exercise (detailed explanation of this technique in my post Breathing techniques: Lazy 8 Breathing)
Deep breathing while Mum counts to 10
Blow Bubbles
Exercises that help us relax (relaxation):
Progressive muscle relaxation exercises
Meditation
Yoga (Check out my post "Yoga for Kids"- tips for beginners and some recommendations on great yoga books for kids / And if you want to make yoga even more fun consider trying these fun animal yoga poses for kids)
Squeeze a stress ball with your hand / release it
( If you are into DYI you can learn? how to make homemade stress balls in just 3 minutes!)
Taking a break from the situation- physical space:
Moving to a different room from where the problem is happening
Step out to the garden
Mum/Dad take me for a walk
Go to a quiet place
Taking a break from the situation- move to a new fun activity:
Watch a favorite tv program
Mum tells a story / Read a Book
Play a game in computer/tablet
Play board games
Play with playdough
Sensory Bottles
These DIY Sensory Bottles are so easy to make that even a 5-year-old could do it alone! It´s not only a great calming tool but also a fun family activity.
Related: Sensory Activities for Kids
Make a Drawing
Listen to music
Physical activity to burn energy:
Bounce-on ball
Jump
Run around the couch
Other techniques:
Stop / Think / Do – Stop when you are very angry / Think about what alternatives you have to solve the problem / Implement the chosen one
Start counting (1- 10)
Hug tight your favorite soft toy
Write down your worries and tear the paper
Think about things that make you happy
Have a snack
The kids' anger management activities that I have just mentioned, are all included in the free calm down cards set that you will be able to download at the end of this post.
More Activities to Help Kids Cope with Angry Feelings
Try these other activities to work on coping skills development and learning to deal with angry feelings:
1. Prepare a calming box
A calm-down box allows your child to access all the items that facilitate emotional self-regulation easily.
You can see how our box looks in the picture.
What items should you include in your calm down box?
Anything that works for your child.
In our coping skills toolbox, we keep our calm-down cards, sensory bottles, earmuffs, a worry eater, anger management worksheets (problem-solving, feelings thermometer), and many other items that work for us.
Grab any box that you have around the house, but make sure it is big enough to fit all the self-regulation items that your child may use.
Do you need some more ideas?
Check this post for ideas on how to create a calm-down box for your kids or students.
2. Keep an Anger Journal
An anger journal may be an incredibly useful anger management activity for your kids or students.
A journal helps record:
thoughts
feelings
anger triggers
anger warning signs
behavioral responses
Reviewing their journal records can shed some light on:
the role that thoughts and feelings play
situations that may need to be avoided
behaviors they may need to modify
coping skill that may help them in the future, or
when they need to start practicing coping strategies
Check out our Cool Kid Journal (it's much more than a journal: workbook + journal + calm down cards, all in one!)⇒ HERE
3. Feelings Box: Store away your angry feelings
This is a very fun anger management activity for kids.
A "Feelings Box" is a place to store away those feelings that may overwhelm your child.
I'll drop a link below to a feelings box tutorial. The title reads "Worry Box," but we also use our feelings box to deal with our angry thoughts and frustration feelings.
This excellent coping tool allows your children to:
Express their feelings (write them down or draw them)
Take control of the situation.
Park feelings or emotions that they may not be able to cope with at the present moment until they are ready to deal with them.
⇒ Learn how to prepare a feelings box
4. Emotions Playdough Activity
This is another fun tool for social and emotional development.
Since we are brainstorming anger management activities, let's assume you ask your kid or student to represent an angry face using playdough.
These are some suggestions for this activity:
Discuss facial expressions of anger / How do we know your playdough boy/girl is angry?
Start conversations about our angry feelings
Brainstorm healthy ways to express anger
Discuss coping strategies
These emotions playdough mats are labeled with 14 different feelings, emotions, or moods: sad, happy, tired, surprised, scared, angry, shy, bored, loved, excited, lonely, hurt, worried, proud
⇓ The following activities are not specific to anger but are interesting tools to work on emotional development.
5. Break Cards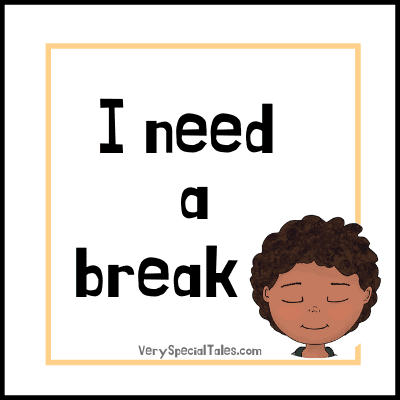 Break cards are a versatile visual cue that your kids can use to request a break from an activity or a situation when things are getting overwhelming for them.
A break card assists the child/student to self-regulate their emotions, actions, or bodies.
In our post on how to use break cards at home, school, and in special education we share helpful advice and free printable break cards.
6. Emotions Charades
This activity is a tremendous social-emotional learning resource.
It helps kids:
communicate emotions using their body language (players can't talk, so they need to act out their feelings)
learn to identify other people's emotions
We play this game with our Emotions Flashcards.
One player picks an emotion card from the deck.
The player represents the emotion for the other players to guess without using words. Take turns doing this.
If you don't own feelings cards, you can write down a list of feelings, cut them into individual pieces, and put them into a jar.
7. Emotions Memory Game
You also need Emotions Flashcards for this one.
Place the cards facing down and take turns lifting any two cards. If the cards match, keep them and proceed to turn another two. If not, leave them facing down and let the next player take a turn. The player who gets more pairs at the end wins.
If you play it this way, it is just another Memory Game.
But, you can turn it into an emotional development opportunity by adding some simple questions.
For example, if your child matches a set of cards representing anger, you can prompt:
"You match the anger cards. How do you feel when you are feeling angry? How does your body tell you about it? How can you tell other people are angry?"
8. Explore Anger with a Fun Anger Thermometer
We have created 11 helpful anger thermometer worksheets for kids that include fun anger activities to help your child explore:
What are those strong feelings called (label those emotions)
Anger signs and triggers
Calming strategies
⇒ If you wish to explore more anger management ideas check out my post on calming strategies for kids (60 calming ideas!)
9. Anger Iceberg: Explore Hidden Anger-Related Feelings
The anger iceberg is a metaphor that highlights that the expressions of anger that are so easy to notice may be hiding other complex emotions.
On the tip of the anger iceberg, we represent what we can see: our anger signs
Beneath the surface, we explore underlying feelings and emotions that may be disguised as anger (frustration, shame, hurt, embarrassment, jealousy, or guilt)
Relevant related reading:
Fun Anger Activities: 14 Anger Management Games for Kids
Playing has an important role in children's physical, cognitive, emotional, and social learning.
Since kids learn better and engage more when playing, adding anger management games to our anger management activities list is a no-brainer.
Around the age of 6 or 7, children incorporate games of rules into their repertoire. Those games require them to cooperate, follow rules, compete, think about the other's point of view and anticipate other people´s actions.
A lot of those skills are put to good use when using anger games to learn anger management techniques, anger cues, anger-provoking situations, and how to express anger appropriately.
In my post about fun anger management games for kids, I take you through 14 different anger games to add to your coping skills tool kit.
Read about fun anger management:
Anger Games: Super Fun Ways to Learn Anger Management Skills
Anger Management Worksheets / Educational Activities
I've also produced two anger management worksheets for kids.
These worksheets cover two important milestones when we are learning to develop our anger management skills:
Being able to identify our anger signs
Learning about our anger triggers.
You may find these anger worksheets and instructions on how to work with them in the following posts:
Getting Help for an Angry Child
If your kids' anger management problems are difficult to manage you need to seek professional help.
Tantrums and meltdowns may be absolutely normal.
But there are also cases in which those episodes are very intense or happen too often.
Your doctor will also assess if they are developmentally appropriate.
Some of the reason why aggressive behaviors may be present can be:
Learning disabilities
Autism
ADHD
Sensory processing issues
Anxiety
You need professional help to assess if there is an underlying problem that requires specific interventions.
Calming Down Cards- Free Download
Using visuals (calming down cards) when teaching kids to cope with big emotions (anger or anxiety) has many benefits:
they assist them to make their choices

they supplement or replace speech for those kids who can´t communicate verbally

they promote self-regulation

they improve the chances of successfully implementing the anger management activities we have been practicing with them
Download below, a set of calming down strategy cards that includes all the anger management activities mentioned in our previous section (please, fill in your details in the form below the picture)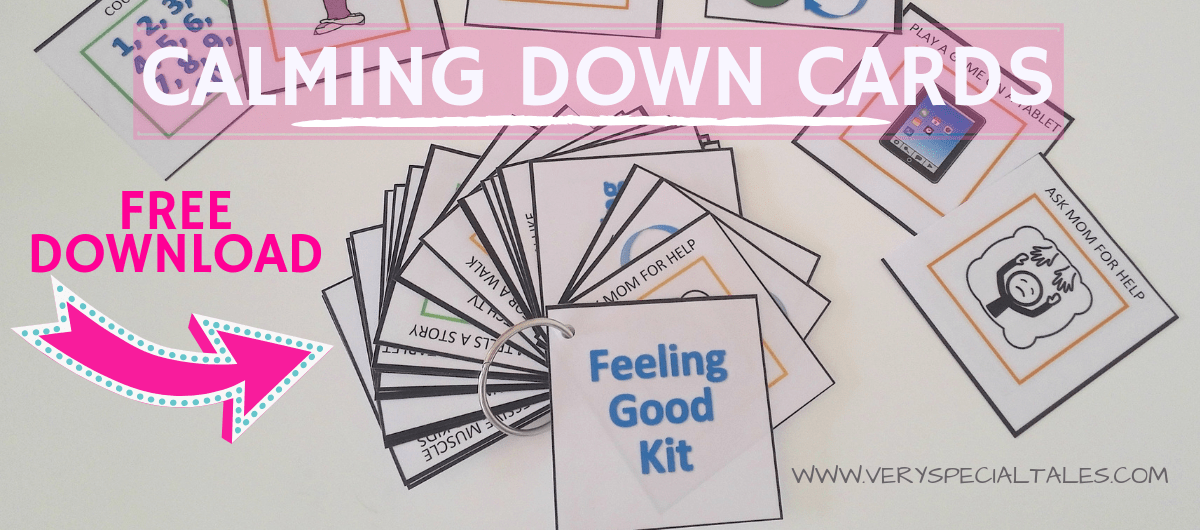 Other Anger Management Resources for Parents
A Cool Kid Journal is a workbook + journal + coping cards (70!), ALL IN ONE. (121 fun colorful pages that include educational content, journaling pages, worksheets, and cards)
It is a digital product to help kids develop coping skills for anger.
Mike, a 12-year-old boy who used to have anger issues, shares with your child all the healthy coping strategies that have helped him and his buddies learn to tame their angry monster.
It is structured in three parts:
Understanding Anger (anger, triggers, signs and anger response)
Coping Strategies

11 Categories broken into 70 different strategies or techniques:

Problem-solving
Self-instructions
Asking for help/sharing
Breathing techniques
Relaxation strategies
Dealing with our thoughts,
Taking breaks
Burning out anger
Sensory strategies
Massage
Yoga
Calm Down Cards (70 cards as per the strategies explored in part 2)
The main focus is the development of coping skills for anger, so part 2 is the most important part of this book.
"The Coping Skills for Kids Workbook can help teach children to calm down, balance their energy and emotions, and process challenging feelings. Author Janine Halloran, LMHC, shares over 75 innovative, fun, and engaging activities developed from her experience in schools, outpatient mental health clinics, and as a mother"
This book has amazing reviews (not often do you find books in Amazon with only 4 and 5 star customer reviews). Most importantly, some of those reviews have been written by therapist or counselors. Worth considering.
46 Anger Management Activities for Kids: How to Help an Angry Kid