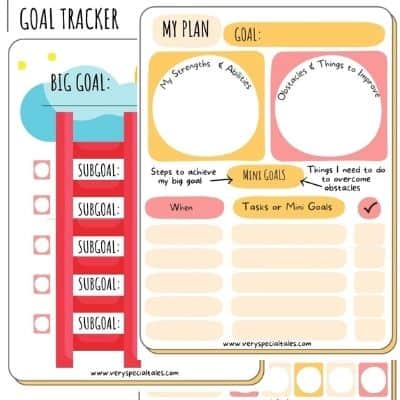 Goal Setting for Kids: Fun ACTIVITIES (PDF) + Tips on Best Goal-Setting Practices
Goal Setting for Kids: In this post, you will read research-based tips and strategies to help your children set meaningful goals and persevere towards them. You will also be able to download some fun goal-setting activities for kids.
I started thinking about this post months back when my daughter and I prepared our New Year Resolutions.
As we sat there preparing and sharing our individual goals, I realized that teaching how to set effective goals was a lot more than just SMART goal principles.
So, I decided to craft a comprehensive post on goal setting for kids that would capture the best goal-setting practices.
I've labeled it "for kids" because my blog aims to build essential parenting resources. But, I'm sure many of us may also find all these strategies useful in our personal or professional life.
What is Goal Setting?
Let's start with a kid-friendly goal definition:
A goal is an objective that we wish to achieve.
When we commit to our goals, we make plans and work to reach our desired outcomes.
Goal-setting is the process of identifying what you want to accomplish and laying down a guiding plan that will help you establish how and when you will achieve your goals.
5 Benefits of Goal Setting
Why is it so important to set goals?
There is a substantial body of research that suggests setting a goal affects our actions.
Goals move us towards achieving what we desire.
Goals affect performance through four mechanisms (Source: Locke, Latham, 2002):
Goals help focus our attention on relevant activities that will contribute to our goal achievement
Goals have an energizing function
Goals affect our persistence, and we make more efforts when we are trying to accomplish our goals
Goals lead us into discovering and using task-relevant knowledge and skills
In other words, setting goals helps us stay focused on the tasks and activities that will make us succeed while keeping our energy and efforts high.
Another benefit of goal setting for kids (and adults):
Setting a goal may turn a task that we deemed boring into a more enjoyable activity because of the added challenge and motivation.
Types of Goals
There are many goals classifications.
I've chosen a few categories that I feel are relevant for the strategies discussed in this article.
From a time-frame perspective, we can look at:
Short-term goals
Medium-term goals
Long-term goals
Another helpful classification would group them into:
Outcome Goals that focus on the desired result.
An example of an outcome goal could be:
I will win the school spelling competition
Performance Goals that focus on task performance, for example:
I will improve my swimming record by 3 seconds
Process Goals that focus on what you need to do to achieve larger goals.
Sports practice is a field where process goals are helpful—for example, improving a technique (process) to improve your overall performance.
Another interesting way to categorize goals would be:
Personal Goals that we have selected for ourselves
Assigned Goals that are chosen for us by others.
In your child's case, that could be their teachers, sports coach, or yourself.
For an adult, those could be the performance goals that our employer chooses for you (hopefully with your participation)
There are many other types of goals, like academic goals or sports goals.
Goal Setting for Kids: Research-Based Strategies & Fun Activities
Learning to set goals is a life skill that will help our kids successfully self-manage achieving their objectives.
Achieving what we desire takes effort and perseverance, but goal-setting helps us focus and effectively plan for it.
The following tips will be covered in this post. They will ensure we help our kids set meaningful and realistic goals:
SMART goals
Stretch goals
Few Goals Better
Write down your goals
Break down goals into subgoals
Share your goals
Make a plan
Understand your baseline
Keep a goal tracker
Set learning goals too
"I will" vs "I will avoid"
Create visual reminders of your goals
Celebrate success
When to use rewards
Teamwork opportunity
1. SMART Goals for Kids: Specific, Measurable, Attainable, Relevant, Time-Bound
You have probably come across the expression "SMART Goals" in the past. SMART is an acronym and mnemonic device coined by Professor Robert S. Rubin to simplify the teaching of goal-setting principles. SMART stands for:
S- Specific
M- Measurable
A- Attainable
R- Relevant
T-Time-bound
The term has become so popular that you may have read many different interpretations.
Specific Goals: When we set ambiguous goals, we don't know what we are expected to achieve.
Research suggests that setting goals that are specific reduce the ambiguity about what we expect to achieve, helping improve performance.
Your kid can set specific goals by answering W questions: who, where, when, what, and which.
There may be exceptions to this rule. Research shows that when a task is too complex, urging people to "do their best" may lead to better strategies. (Early, Connoly & Ekegren, 1989)
Measurable Goals: How do we know we have met our objectives?
Measurable means that we can quantify our goals.
If we can measure a goal, we can also track our progress and know when we have met our goal.
Your child can set measurable goals by answering "how much" or "how many" questions.
Attainable Goals: Help your child set realistic goals.
Attainable goals are goals that we can achieve.
I usually use the term "achievable goals" to make it easier to understand for younger kids.
Your child must have the ability and/or knowledge to achieve that goal. It must be a realistic goal.
Relevant Goals: Help your child explore their interests
There are different reasons why we may choose a specific goal:
-it reflects our interests and values
-social pressure
-other peoples expectations
Your child is more likely to succeed if their goals align with their interest and those things that are important to them (internally motivated).
Explore with your child why specific goals are important to them.
If the goal they choose is intended to make you or others happy, they will be relying on external motivators. (Research source: Autonomous Motivation, Controlled Motivation, and Goal Progress)
Time-Bound Goals: Time-bound means there is a time frame for your child's goal.
A tip to help your child set time-bound goals is asking them to answer the question "When".
These SMART Goals worksheets and flashcards will help your child understand and practice SMART goal-setting
While the SMART goal is a powerful and valuable tool to help us set goals effectively, there are other important principles and advice.
2. Set "Stretch" Goals
Set goals that are attainable but a bit difficult to achieve.
Research shows that the highest or most difficult goals produced the highest levels of effort and performance.
3. Don't Chase Too Many Objectives at the Same Time
If your child sets too many goals, they may end up conflicting or becoming too exhausting.
Explore with your kid how much time and effort they may need to devote to their projects.
4. Write Down Your Goals
When you write down your goals, it works as a written commitment.
Encourage your child to write down the goals that they wish to achieve.
5. Breakdown Goals into SubGoals
Break down challenging goals or long-term goals into subgoals.
These "mini-goals" will make accomplishing the big goals more manageable. It will also help you track progress and stay motivated.
A popular visual tool to help kids break their goals into subgoals is goal ladders.
The steps represent the subgoals or subtasks that we will have to take to achieve the larger goal that we write at the top of the goal ladder.
At the end of this post, you can download some goal-setting activities for kids that include the goal ladder worksheet you see in this section's picture (5 subgoals), and an additional 3-subgoal goal ladder.
6. Share your Goals
Share your goals publicly with somebody you look up to.
There is some controversy over whether sharing your goals helps or is counterproductive.
Some authors indicate that making your goals public may provide you with positive feedback and validation that "steals" your motivation and reduces your likelihood of achieving them.
This research explores how sharing your identity goals affects the intensity of your pursuit.
Other studies suggest that sharing your goals increases your probability of accomplishing them.
But here is the catch, you need to share them with somebody you look up to.
"It is not enough for goals to be made known to facilitate commitment but that they should be made known to someone perceived as having higher status" (Source: Klein, Lount, Park, & Linford (2020)
Your kid may be more motivated to persist and make you proud if they've shared their goals with you, a teacher, or a friend.
7. Make a plan
Help your child devise a plan that will help them achieve their objective.
The plan should include all the steps that your child needs to follow to achieve their goals.
Those steps may become subgoals that will help track progress towards the final objective.
A good plan will also help identify obstacles and prepare for them.
At the end of this post, you can download some goal-setting activities for kids.
The Goal Planner that you can see in this section is included in your download.
8. Understand your current level
It is essential to understand your baseline whenever you are trying to make changes (learn a new skill, start a behavior).
It will help you track your progress.
Even if a goal is not achieved, your child may keep motivation up if they understand they have improved compared to the initial baseline.
It will also help reevaluate the target if necessary (they may realize the objective was not realistic or need subgoals to assist in the process).
9. Keep a Goal Tracker
A goal tracker will help you stay focused and change strategies or increase practice if required.
"When people discover they are below goal, they typically increase their effort and/or modify their strategy" (Latham, 2004)
The goal-tracking activities at the end of this post include the following Goal Trackers for kids:
Daily Goal Tracker
Weekly Goal Tracker (picture in this section)
Monthly Goal Trackers
10. Set Learning Goals
Learning goals are a good addition. Instead of putting pressure on a specific outcome, we focus on learning, resulting in an improved outcome.
11. Formulate Goals in the Positive
Formulate your resolutions as approach-oriented goals ("I will do") instead of avoidance-oriented goals (I will quit/ avoid/ stop)
Research suggests that people are more successful in accomplishing their resolutions when they formulate them as approach-oriented goals.
So, when you are helping your child to phrase their goals, you can suggest formulating them in positive:
"I will eat a healthy cereal breakfast every morning" instead of "I will stop eating Nutella sandwiches for breakfast."
12. Create Visual Reminders of your Goal or Plan
Create a visual cue that helps your child remember what they are working towards.
This can be as simple as displaying your child's big goals somewhere visible (a paper on the fridge) or helping them create a collage or a vision board.
13. Celebrate Success
Accomplishing our goals brings us pride and satisfaction. But I'm sure your recognition and celebration will enhance those emotions in your child even further.
14. Select a Reward to Increase Motivation (for assigned goals)
When we discussed the goals classification, we mentioned the difference between personal goals and assigned goals.
Sometimes, the goals your child is working towards wouldn't have been selected by them. For example, they may be academic goals or class goals.
A way to add a bit of motivation to assigned goals is by selecting a reward.
A reward doesn't have to cost money. It can be a simple privilege like cooking with mom or telling a story (even when you're grown-up). It is enough to see the interests of your child. It's important to celebrate our big and small victories and learn to be proud of our successes.
15. Teamwork Opportunity
Now that you know how to set a goal properly, you can get started.
Remember, this is the perfect opportunity for teamwork.
Take the time to ask your child what they want to improve, what challenges they want to accomplish.
Show them your willingness to help them and take the opportunity to set an example by using the same principles to set yourself goals and share them with them.
In life, we all have challenges, and your children would surely be proud to help you succeed in yours.
Free Goal-Setting Worksheets and Resources
Don't forget there is another free download, in our post "SMART Goals for Kids"
Download your free Goal-Setting Worksheets for Kids: