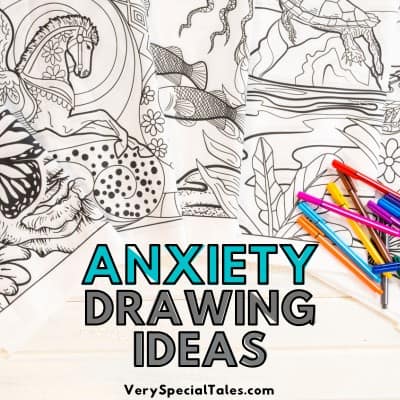 18 Anxiety Drawing Ideas for Kids (and Adults!)
Coloring books have always been one of kids' favorite activities. But, in the last decade, adult coloring books have also become increasingly popular. Anxiety drawing can be a great and easy-to-access coping tool.
Art Therapy Vs. Anxiety Drawing
Drawing and coloring are so often equated to art therapy, but they are NOT the same.
The British Association of Art Therapists defines art therapy as "a form of psychotherapy that uses visual and tactile media as a means of self-expression and communication…[It is] delivered by trained art therapists/art psychotherapists …[and] designed to help anyone…affected by adverse experiences, illness or disability, by supporting their social, emotional and mental health needs."
So, although drawing may help relieve everyday symptoms of anxiety and stress, it is not a therapy activity unless it is delivered by a certified art therapist.
So, does drawing reduce anxiety in the end?
Does Drawing Reduce Anxiety?
Turtutto and Drake designed a research exploring the benefits of drawing activities that had two different objectives:
Drawing to distract
Drawing to express.
60 Undergraduate participants were randomly assigned to:
Color a design
Draw a design (with the objective of distracting them from their anxiety)
Draw to express their negative thoughts and feelings.
Results suggested that all three activities proved to have beneficial psychological and psychophysiological effects:
Reduced anxiety
Decreased heart rate
Increased respiratory sinus arrhythmia.
The research found no differences across the three conditions.
But the participants who drew a design with the objective of finding a distraction to their induced anxiety enjoyed the activity more than those who drew to express negative feelings.
So, research seems to confirm that, no matter what creative strategy you choose, drawing and coloring may be helpful tools to ease your anxiety and worry.
7 Benefits of Coloring and Drawing
We have already established that drawing may help us deal with anxiety and worry.
But coloring and drawing also have many other benefits:
Stress relief: Coloring can be a calming and meditative activity that helps people relax and de-stress by removing attention from worries and focusing on a simple and enjoyable task.
Mindfulness: Coloring is a form of mindfulness. Coloring allows us to focus on the present moment, the feeling of the pencil in our hand, the scribbling sound, the colors, the forms, and shapes.
Creative expression: Many people find coloring to be a form of creative expression. Coloring books balance structure and creative freedom (basic design is there but you can explore color and textures)
Flow: An enjoyable creative activity such as drawing or coloring can help you reach a flow experience, a state of effortless concentration and focus that arises when your skills meet the task demand and you feel motivation at its highest (Csikszentmihalyi)
Brings back fond memories as we engage in an activity that may remind us of our childhood
Convenient and inexpensive, coloring is a low-cost hobby. You may splurge on a super cool coloring book, but you may also download a free mandala from the internet, and use any drawing supplies available at home.
Social dimension. Coloring has become so popular that you may be able to join a coloring club in your neighborhood, local library, or community center.
So, no matter if you are a kid or an adult, drawing seems to be a fun and helpful form of self-care. And it is also used in art therapy.
(Disclosure: We are a participant in the Amazon Services LLC Associates Program, an affiliate advertising program designed to provide a means for us to earn fees by linking to Amazon.com and affiliated sites. You can also read our Disclosure & Disclaimer policy here)
Best Anxiety Drawing Ideas for Kids (& Adults!)
Since we have established that coloring and drawing can be anxiety-relief activities, let's explore some great anxiety drawing ideas (or art therapy ideas):
1.Mandalas
A mandala is a geometric configuration of patterns and symbols, a representation of the universe, and an instrument of meditation in Eastern religions and spiritual traditions.
Many people create or color mandalas as a calming activity. You can use mandala printables or create your own mandala patterns.
We can interest your kid in a variety of mandala art projects.
For older kids, a kit with a wide range of applications may be a great way to start exploring mandala art. This mandala kit includes stencils that can be applied to rock painting, canvas art, nail art brush for nail art, ceramic art, watercolor, gouache, acrylic, and oil painting.
For younger kids, a mandala coloring book or mandala rock-a-dot kit could be fun options
2. Doodling
A doodle is an aimless or casual scribble or sketch. It doesn't require focused attention – as a matter of fact, doodling may often happen when we are distracted or bored.
3. Anxiety rocks / Grounding rocks
Rocks are used as a grounding tool, and to help anxiety relief and develop coping skills.
Holding the rock helps you focus on the present and calm down.
You can decorate your anxiety rocks with drawings or words that bring you a sense of calmness.
Related: How to Use Gratitude Rocks
4. Color-by-Number
Color-by-number is a type of coloring activity where each section of an image is assigned a number and a corresponding color. It is a popular activity for children and adults alike and is often used for relaxation or to improve fine motor skills.
Children's color-by-number activities have simpler designs, and it is sometimes used as part of a broader learning activity (for example, instead of providing a number, it requires a simple math activity – 2+2 instead of 4)
Paint-by-number for adults can turn into astonishing pieces of art on a canvas (this is an example).
5. Coloring books
We have already discussed the anxiety-relief benefits of coloring. So, why not buy a nice coloring book and explore our inner artist?
6. Drawing with prompts
You can use prompts to inspire your anxiety drawing activity. For example, you may decide to draw something that makes you happy or think of a word of inspiration and see what your creativity brings to life.
7. Drawing inspired by music
Let the music guide your creativity. Choose a song or a type of music and unleash your creative genius.
8. Finger drawing
Finger painting is an enjoyable and creative activity that can provide several benefits for individuals of all ages:
Sensory exploration: finger painting engages our senses: touch (texture), sight (colors), and smell (of paint)

Stress relief: Move away from worry thoughts and relax while you focus on your art creation.

Fine motor skills development: Finger painting involves the use of the hands, fingers, and wrists, involving fine motor skills, such as finger dexterity and hand-eye coordination.

Cognitive development: Finger painting can also stimulate cognitive development, as kids engage their imagination and creativity while they experiment with shapes, colors, outlines, and

appearance.

Emotional expression: Finger painting is a form of self-expression, and it can be a therapeutic way for individuals to express their emotions and feelings through art.
9. Creative hand lettering drawing
Creative hand lettering is the art of drawing letters by hand in a way that is visually appealing and expressive.
It involves combining typography and illustration to create unique and eye-catching designs.
Hand lettering can be done with a variety of tools such as pens, markers, brushes, or even digitally using a stylus and tablet.
10. Bullet journal drawing
Ryder Carroll's helpful bullet journal method has evolved from a tool to assist productivity and organization to a form of art and creativity expression.
Bullet journal drawings can be used to create monthly or weekly spreads, habit trackers, mood trackers, goal-setting pages, and more. These drawings can include illustrations, hand-lettering, doodles, and even watercolor paintings.
Bullet journal drawing not only makes the journal more aesthetically pleasing, but it also provides a creative outlet for self-expression and can be a form of relaxation and mindfulness.
11. Art journal
Pen, pencil, felt, anything you can put to paper. A visual or art journal gives you an outlet without having to actually write. You can sketch, draw, or scribble across the page. The possibilities are endless – and it's a great starter journal for younger kids.
12. Self-affirmation cards / Anxiety affirmation cards
Prepare your own anxiety statements. It can be a simple hand lettering positive affirmation, or you can turn your card into a small creative canvas.
13. Drawing my anxiety
The research we mentioned in our previous section captured the type of drawing that seeks to express your emotional state.
In this case, it will not serve a distraction purpose but a journey to explore your feelings and emotions
14. Anxiety collage
An anxiety collage is a creative technique that involves creating a visual representation of your anxiety using different materials, such as magazine clippings, images, words, and colors.
The purpose of making an anxiety collage is to externalize and process your anxious thoughts and feelings in a tangible form. Your anxiety collage can help you understand better your anxiety and its causes.
More Fun Drawing Ideas for Kids (Playing with Texture and Materials)
Some more drawing project examples applied to different materials and surfaces:
15. Worry Box "Moster Craft Project"
This activity is more of a craft project than a drawing activity, but it is very relevant to today's topic.
A "Worry Box" is a place to store away those feelings that may overwhelm your child. And, if you want to make it really fun, you can prepare our Monster Worry Box.
Check out ⏩ How to prepare a Worry Box
16. Scratch Art
Scratch Art can be used for the same worry distraction purpose.
Scratch away at the black layer and reveal gorgeous holographic, neons, or metallic colors and rainbows. And, if you don't wish to start from scratch, many of these kits also come with stencils.
17. Figurine Painting
Painting ceramic figurines can be a fun craft activity, and you end up with fun toys or decorations.
Examples: Bluey (Dogs figurines) and Ceramic Owl Succulent Pots
18. Paint Dishware
Design your own dinner plates and bowls
Super fun, and you will likely want to keep this one for posterity.
Ready to start drawing and coloring?
Other Anxiety Resources