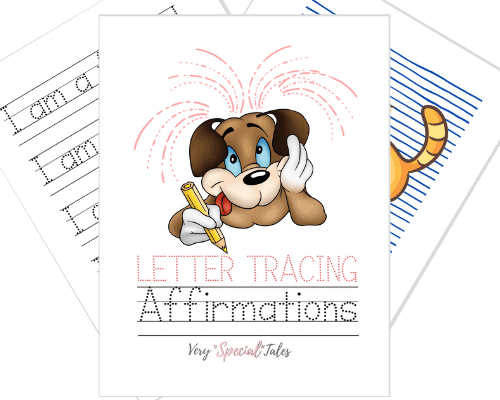 Letter Tracing Affirmations Worksheets for Kids: Handwriting Practice + Positive Self-Talk (All in One!)
Letter Tracing Affirmations: Handwriting Practice + Positivity Boost + Wall Art –> All in One Single Activity!
A great workbook for younger kids and children with fine motor skills issues or special needs.
Can't wait to check it out ?? -> Letter Tracing Affirmations Worksheets
Positive Affirmations Worksheets for Kids
The importance of developing a positive sense of self during the childhood years can´t be emphasized enough. During childhood, kids develop their belief system. And it will influence them throughout their lives.
It is not a surprise then, that lots of people have turned to affirmations as one more strategy to help kids develop a positive sense of self.
There are many other benefits to practicing positive affirmations with kids, like
building a positive mindset
being reminded of how wonderful and loved they are, or
helping them focus on their strengths
But I have a very special reason myself.
I have a kid with special needs.
And, soon, he will start realizing the number of things others do that he can´t.
When that day comes, I want him to be absolutely confident that we love him exactly the way he is, that he has amazing qualities and gifts and that he is very aware of his special talents.
When we started practicing positive affirmations I stumbled upon several obstacles.
I wanted him to write his own affirmations. Because writing down our thoughts help us process that information at a deeper level.
But,
he has motor skills issues (he is 13 but his writing skills are similar to a 5 y.o.)
he found it difficult to come up with affirmations. "I'm good" could pretty much sum up all his ideas.
He focuses better when he has visual cues that attract his attention.
So, with all that information in mind, I started adapting the concept of the affirmation to something that could work better with him: letter-tracing affirmations worksheets.
I chose simple messages, created letter tracing affirmation worksheets and added attractive illustrations to turn it into a fun activity (and potentially wall art!).
It has been a successful project for us:
handwriting practice
positive affirmations to encourage a positive sense of self, and
super cute wall art
all in one!
If this is something that could help you because:
you have young kids that could benefit from handwriting practice
have kids with fine motor skills issues
wish to practice affirmations with the youngest ones in the house
take a look at this workbook:
Each one of these 15 affirmations comes in two presentations:
a cute animal image and a letter tracing affirmation that you can use for decoration or to display for message reinforcement
a practice sheet where your child can practice the affirmation before attempting the decorative page.
I hope you enjoy it as much as we do! ?
Other Affirmations Resources for Kids: