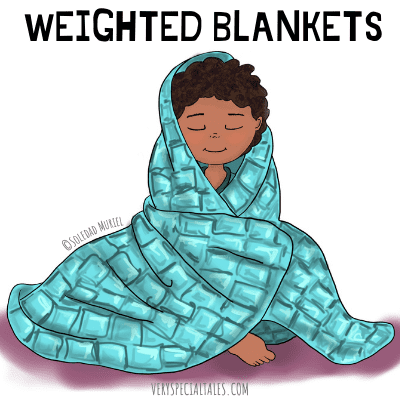 Weighted Blankets: Do they Work? (Avoid this Mistake)
Weighted Blankets: In today's article you will read about deep pressure touch, weighted blankets, their potential benefits, and some tips on how to use them (learn from my mistakes!).
Weighted blankets have gained popularity in recent years, but many people wonder, do they really work?
(Disclosure: We are a participant in the Amazon Services LLC Associates Program, an affiliate advertising program designed to provide a means for us to earn fees by linking to Amazon.com and affiliated sites. As an Amazon Associate, I earn from qualifying purchases. There may also be other affiliate links in this post. You can also read our Disclosure & Disclaimer policy here)
A personal note, before we dive into the article.
I've had "Weighted Blankets" in my "To Write" list for quite some time.
I was reluctant to write about it, though.
On one hand, I'm surrounded by plenty of examples that suggest a heavy blanket works wonders:
all the special education centers that my son has attended for the last five years utilize this type of product to help their students relax and calm down (weighted blankets, weighted stuffed animals, or weighted laps)
and, I've not only seen it working in young children.
Our caregiver, who is an adult woman on the autism spectrum, always praises the calming effects that deep pressure input provides.
She has a blanket, a vest, a sock, and any type of product she finds on the market that helps provide this type of proprioceptive input because it seems to help with her anxiety.
On the other hand, it didn't really work for our son.
So, I was hesitant to write about a tool that I had not been able to put to good use myself.
If I could rewind two years, I would definitely do things differently.
Our son's psychologist and I believe that we understand why this sensory tool didn't work for us as we expected.
And, that's what made me decide to write this article in the end.
I feel that sharing what I did wrong would help other parents or educators that are about to use deep pressure products now.
Table of Content
What is Deep Pressure Touch
What are Weighted Blankets
How to Use a Weighted Blanket
Cute Weighted Blankets for Kids
Deep Pressure Touch
To understand what weight blankets are, we must first understand the concept of "deep pressure."
What is Deep Pressure Touch?
Deep pressure touch is a type of tactile and proprioceptive stimulation that provides firm pressure on the muscles, such as holding, hugging, squeezing, or stroking firmly.
Deep pressure therapy is based on the Sensory Integration Theory developed by Ayres.
Ayres identified in her practice and research that children with learning disorders often struggled with sensory processing issues. Her Sensory Integration Theory links sensory processing to emotional regulation, behavior, and learning.
Deep pressure, generally administered by caregivers, falls into the category of sensory-based interventions ( Source: NCBI)
Answering the question of whether this type of intervention works is not straightforward.
The research on sensory integration and sensory-based interventions is inconclusive (some seem to indicate that they work and others do not).
This does not exactly mean that it does not work, but today the information is mostly based on personal experiences.
What are the Benefits of Deep Pressure Touch?
Some research seems to suggest that deep pressure touch may:
Reduce stress and anxiety (greater degree of subjective relaxation) Source: PubMed.Gov
Improve mood and behavior (measuring five areas: happiness, communicativeness, calmness, engagement in activities, and responsiveness to instructions) Source: NCBI
Improve sleep. Source: PubMed.Gov
Who May Benefit from Deep Pressure Touch?
Anybody may benefit from deep pressure touch.
But, deep pressure therapy is often used to help children (or adults!) with:
Autism spectrum disorder
Attention deficit hyperactivity disorder (ADHD)
Sensory processing disorder
Sleep disorders
Disabilities / special needs.
What Are Weighted Blankets?
A weighted blanket is a quilted blanket that has been filled with glass beads, plastic pellets or other material to provide additional weight. The quilted design allows an even distribution of the weight.
Depending on the person's body weight, the recommended weight for the blanket varies.
Weighted blankets' proprioceptive input is often described as being hugged.
The gentle pressure of a weighted blanket may provide the following benefits:
Promote a sense of calm
Decrease anxiety
Help emotional self-regulation
Improve sleep patterns/sleep quality
How to Use your Weighted Blanket
In this section, we will cover some general advice, and then I will share my personal experience of what NOT to do.
Weighted blanket tips:
Therapists / Occupational therapists usually recommend that the weight of the blanket be 5 to 10% of the body weight.
BUT your therapist may recommend a different weight. In our case, our psychologist recommended extra weight for our son.
Never cover the kid's head
Never use these blankets with babies
Help your kid get used to the blanket before you attempt to use it as a soothing/relaxation tool.
Buying a blanket cover may save you from the hassle of washing it too often
My Own Failed Experience & How I Should Have Done it
I am a bit embarrassed to admit that I approached this calming tool the wrong way.
So, the main objective of this post is that you learn from my mistakes.
We did a couple of things right:
Our psychologist did a sensory assessment and established that our child would benefit from this type of sensory input
We shared with our child how this tool was going to help us.
But, I was so eager to start benefiting from the therapeutic calming effect of a weighted blanket that I didn't follow my own recommendations on how to use any type of calming tool:
Before you start using a new tool or strategy, practice when your child is calm and relaxed. Let them familiarize themselves with the strategy. Let them learn how to use it. Let them get comfortable with it.
If you've read some of my articles, that golden rule must be familiar already.
Whenever we try a new tool to help our kids with their emotional self-regulation issues or with their sensory needs, we need to wait for a moment when they are happy and calm.
In this case, we needed to start building that nice association between the blanket and the positive effect that were seeking.
At the time, my son was really struggling with emotional regulation.
We were very clear that this tool would meet his sensory needs. He likes touch /proprioceptive sensory inputs. He loves massage, cuddles, and hugs.
So whenever he was feeling unsettled, I would bring his blanket, I covered him with it and explained how much it was going to help.
Wrong approach.
We should have waited for a moment when he was happy and calm, and introduced the blanket then:
"Let's try this new blanket. It's going to make you feel cozy. It is like a nice hug that will make you feel better"
In our case, failing to go through this step ended up creating the wrong association between the blanket and emotional deregulation.
It came to a point when he would start feeling unsettled, he would look at me and say "Don't bring me the blanket!"
On a happy note, we are still using the blanket. For another child.
It's been a great input to help our younger child with her sleep problems. It helps her soothe and wind down for the night.
Best Weighted Blankets for Kids
These are just a few examples of the best-rated weighted blankets for kids on Amazon (ours is grey and boring, so I thought I'd share a few cool ones instead):
Let me know how it works for you.
♥⇓Pin on Pinterest⇓♥