90 Famous People with ADHD: Struggles & Strengths
Famous People with ADHD: Today's post explores the fascinating stories behind famous people with ADHD who rose through their struggles to achieve great things in their chosen fields.
Attention Deficit Hyperactivity Disorder (ADHD) is a medical condition usually diagnosed in childhood and often lasts into adulthood. It is commonly categorized by "a persistent pattern of inattention and/or hyperactivity-impulsivity that interferes with functioning or development."
ADHD is not a learning disability, but ADHD symptoms and effects (reduced executive functions, trouble paying attention, impulsivity, difficulty organizing and planning) can affect some aspects of learning during school years.
The good news is that some ADHD symptoms can be turned into personal strengths, which will allow the individual to perform at their fullest potential and enjoy a successful career. 
In my post about ADHD strengths, I selected a number of ADHD superpowers that could help our kids thrive: hyperfocus, endless energy, creativity, spontaneity, logical thinking, sense of justice, and entrepreneur soul (positive risk-taking), to mention a few.
Today, we continue our inspirational journey by looking at many famous people with ADHD who have reached the highest recognition in their careers or personal life.
Post at a glance:
Stories Behind Some Famous People with ADHD
ADHD Strengths Worksheets
90 Celebrities with ADHD (Download the list at the end of the post)
Stories Behind Some Famous People with ADHD
Before we move into our big list of famous people with attention-deficit hyperactivity disorder, I think it would be very inspirational to review a few stories of well-known public figures who overcame their ADHD challenges and, in some cases, leveraged those traits or found ways to work around those challenges, to realize their full potential.
In our close-up look, we will read about the following:
Channing Tatum (actor)
Ryan Gosling (actor)
Emma Watson (actress)
Simone Biles (athlete)
Dav Pilkey (Capitan Underpants author)
Ingvar Kamprad (IKEA founder)
Jamie Oliver (chef)
Alexander Graham Bell (Scientist/Inventor)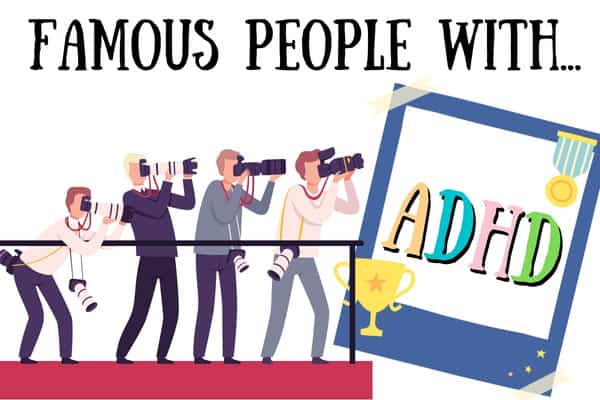 Channing Tatum – Actor
Tatum is a famous American actor who has starred in many films (Step Up, Magic Mike, G.I.Joe). Time Magazine has even named him one of the 100 Most Influential People in the World.
Tatum was diagnosed with ADHD and dyslexia as a child and placed in a special education classroom due to his learning disabilities.
He found it hard to absorb information from textbooks. But, his mother gave him indispensable advice that helped him learn outside the classroom: "be a sponge" and learn from people and experiences.
Tatum believes this advice has helped him in his acting career as it enabled him to pick out good mentors who aided in his success.
He has publicly shared his frustration as he struggled with ADHD during childhood and how it affected him. He continues to work through related struggles as an adult.
His ADHD has not stopped Tatum from starring in many critically acclaimed movies. He has, in fact, thrived in his acting and producing careers.
Ryan Gosling – Actor
Gosling is a Canadian actor who has starred in independent and blockbuster films of various genres.
Gosling has received many awards, including a Golden Globe, two Academy Awards, and one BAFTA award. He also received a Teen Choice Award for best actor for his role in The Notebook.
As a child, he struggled to read and was evaluated for ADHD but not officially diagnosed. He was prescribed medication and placed in a class for students with special needs.
He was bullied at school, had no friends until he was a teenager, and was even home-schooled for a year. His sister encouraged him to be a performer, and he began acting in front of audiences at a young age.
"I've learned it's important not to limit yourself. You can do whatever you love to do, no matter what it is." Source
Emma Watson – Actress
Watson is an English actress and activist. She is well-known for her roles in independent and blockbuster films and her work for women's rights.
Watson rose to stardom as Hermione Granger in the Harry Potter franchise. She later starred as Belle in the live-action adaption of the musical romance Beauty and the Beast, which ranks among the highest-grossing films of all time.
While she hasn't spoken publicly about the condition, Watson was reportedly diagnosed with ADHD as a child and was prescribed ADHD medication to help her focus and control her behavior.
However, ADHD has not stopped Watson from attending Oxford University, where she gained a degree in English Literature. She is also an alumnus of Brown University and a former United Nations Goodwill Ambassador.
Watson continues to succeed in the cinematic universe and her work for women's rights. She has been ranked among the world's highest-paid actresses by Forbes and Vanity Fair, and Time Magazine named her one of the 100 Most Influential People in the World.
Simone Biles – Athlete
Biles is an American gymnast. She has won 25 World Championship Medals, 7 Olympic medals (4 of them gold medals!) and is the most decorated gymnast in history.
Biles received her ADHD diagnosis when she was nine years old. She became more public about her ADHD after her medical records were leaked online. She is now vocal about her own struggles and has been able to inspire others to speak out, especially those who have endured stigma from the disability.
Simone wants to help people in their mental health journey. On her Twitter account, she shared:
"Having ADHD, and taking medicine for it is, nothing to be ashamed of and nothing that I'm afraid to let people know."
Biles was chosen as Sportswomen of the Year by the Women's Sports Foundation and recognized as the finalist in Time Magazine's Person of the Year.
She is a role model for young female athletes.
Michael Phelps – Athlete
American Olympic swimmer Michael Phelps is the most successful and decorated Olympian of all time with a total of 28 medals. He also holds the record for gold medals, winning eight Olympic gold medals at the 2008 Beijing Games.
Diagnosed with ADHD at nine, he could not sit still or focus and was constantly buzzing with activity. He recounts that a teacher told him he "would never amount to anything and would never be successful."
However, in the face of this negative learning environment, Phelps channeled his symptoms into swimming.
With the help of continuous praise and positive reinforcement from his mother, he was able to manage his ADHD from a young age. Swimming kept him focused and disciplined, leading to incredible and record-breaking achievements.
"I think the biggest thing for me, once I found that it was okay to talk to someone and seek help, I think that's something that has changed my life forever," he says in a video for the Child Mind Institute. "Now I am able to live life to its fullest."
Dav Pilkey – Writer
Pilkey is an American cartoonist, author, and illustrator of children's literature. He is best known for his book series Captain Underpants and his graphic novel series Dog Man.
As a child, Pilkey got a diagnosis of ADHD and dyslexia. In school, he was constantly reprimanded for his behavior in class and usually found himself sitting at a desk in the hall outside the classroom.
It was during this time that he created the Captain Underpants character. He did not want to be known as the kid who always got sent outside, and since he couldn't read or write well due to his dyslexia, he focused on drawing.
He started making up stories with his drawings that eventually led to comics. He became the storyteller amongst his classmates.
"This world needs people who think differently; it's your superpower."
Pilkey now sees his ADHD as his superpower, which he credits for his massive success. He wants kids to know that there is nothing wrong with having ADHD – you just think differently, and that is a good thing.
Ingvar Kamprad – Entrepreneur
Kamprad was a Swedish billionaire business magnate best known for founding IKEA, a multinational retail company specializing in furniture.
He started selling matches as a young boy when he realized he could buy them in bulk and sell them individually at a low price while still making a profit.
Diagnosed with ADHD and dyslexia, Kamprad adapted the inner workings of his business to accommodate his conditions. For example, he chose to identify products by their nature instead of a numerical code as he struggled to work through and remember codes.
Beds and wardrobes were named after Norwegian places, and garden furniture after Swedish islands. Thanks to this, Kamprad was able to visualize and remember every item in stock.
He also created wordless assembly instructions for all his IKEA products.
Kamprad tailored his company to turn his struggles with ADHD into strengths. His creativity and ability to adapt aspects of his work to play to his strengths helped him live a rewarding and successful life.
Jamie Oliver – Chef
Oliver is an English chef, restaurateur, and cookbook author. He has also gained success in a number of television shows.
Oliver started the Feed Me Better campaign to introduce school children to healthier foods which the government later backed.
Diagnosed with ADHD as a child, he is passionate about spreading the word on healthy eating and advocating for proper nutrition to manage the symptoms of ADHD, and often speaks out about his own experience.
"Schools should really be about facilitating kids to find their inner genius and inner confidence."
Oliver found school incredibly frustrating, which made him resentful of the education system.
However, since leaving school, he has come to understand that not learning in the same way as others is an opportunity to look at things differently.
Due to his struggles with learning, he has become very passionate about education and helping others understand that there are different types of intelligence and that everyone has the ability to be brilliant.
Alexander Graham Bell – Scientist / Inventor
Bell was a Scottish-born inventor, scientist, and engineer credited with inventing the first telephone.
Graham Bell co-founded the American Telephone and Telegraph Company in 1885.
His life's work was influenced by his family history (both his mother and his wife were deaf). He focused his research on hearing and speech and experimented with hearing devices, eventually leading to the telephone's creation.
It is suspected that Bell had ADHD before the term was invented. He was often forgetful, jumped from idea to idea, and struggled to see things through.
Eventually, he devised a brilliant idea. He tailored his surroundings to suit his symptoms, assigning dedicated rooms for each task where he could only work on specific tasks in each room.
As he became familiar with each of his surroundings, he could immediately immerse himself in each task, improving his cognitive fluency, attention, and memory. His surroundings became a safe space to complete each task.
Ultimately his ADHD traits, which likely included hyperfocus, creativity, logical thinking, and attention to detail, led him to an incredible discovery and enabled him to change the field of telecommunication.
ADHD Strengths Worksheets for Kids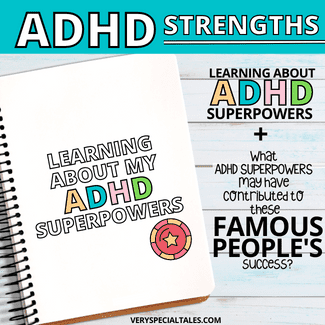 These worksheets seek to educate and motivate kids who struggle with ADHD-related challenges.
In the first part, we explore different ADHD strengths and how they can help us reach our goals.
In the second part, we look at motivational figures that have achieved great things in their chosen fields while dealing with ADHD.
This workbook is about acknowledging the struggles associated with ADHD but also about recognizing that some traits can be leveraged and work as "ADHD superpowers" that will assist our kids in reaching their dreams.
90 Famous People with ADHD
I am positively sure that my list is incomplete. But it is, at least, a good sample of many successful people who have managed to overcome ADHD challenges and lead brilliant careers.
ADHD became a more common diagnosis in the 1990s, so the historical figures that you will find in this list never got a diagnosis of ADHD. But historians believe they present symptoms or traits that are consistent with this diagnosis.
In any case, we are not looking for historical accuracy but for inspiration for young people, high school kids and even middle school children who struggle with ADHD and need some reassurance that they will be able to thrive.
You can download this list at the end of the post.
Famous Actors with ADHD
Channing Tatum
Emma Watson
Jim Carrey
Jim Caviezel
Michele Rodriguez
Ryan Gosling
Wendy Davis
Woody Harrelson
Zooey Deschanel
Will Smith
Tracy Gold
Robin Williams
Whoopi Goldberg
Famous YouTubers with ADHD
Anthony Padilla (Minecraft)
Technoblade (Minecraft)
Hank Green
Dream (Minecraft)
How to ADHD
JBAverage
Bri Hall
Nigahiga
DanTDM
Stampylonghead
Arin Hanson (Egoraptor)
Mark Fischbach (Markiplier)
Famous Athletes with ADHD
Michael Phelps
Simone Biles
Magic Johnson
Michael Jordan
Muhammad Ali
Andre Brown
Cammi Granato
Josh Freeman
Karina Smirnoff
Louis Smith
Pete Rose
Terry Bradshaw
Vigil Green
Babe Ruth
Famous Writers / Journalists with ADHD
Dav Pilkey
Ed Hallowell
Henry Winkler
Jenny Lawson
Katherine Ellison
Lisa Ling
Agatha Christie
Mark Twain
George Bernard Shaw
Jules Verne
Famous Business / Entrepreneurs with ADHD
Bill Gates
Alan Meckler
David Neeleman (Jet Blue Airways)
Ingvar Kamprad (IKEA)
Paul Orfalea (Kinko's)
Richard Branson (Virgin)
John T. Chambers (Cisco Systems)
Walt Disney
Famous Chefs with ADHD
Jamie Oliver
Gizzi Erskine
Heston Blumenthal
Jennifer Herrera
Famous Media Personality with ADHD
David Blaine (illusionist)
Howie Mandel
Paris Hilton
Ty Pennington
Joan Rivers (television host / comedian)
Famous Musicians with ADHD
Adam Levine
Britney Spears
Justin Bieber
Justin Timberlake
Sam Fender
will.i.am
Zayn Malik
Loyle Carner
Solange Knowles
John Lennon
Mozart
Famous Politicians with ADHD
Benjamin Franklin
J.F. Kennedy
Glenn Beck
James Carville
Kendrick Meek
Famous Scientists / Inventors with ADHD
Albert Einstein (Scientist and Nobel Prize winner)
Alexander Graham Bell (inventor)
Leonardo da Vinci
Thomas Edison (inventor)
Dean Kamen (Segway & IBot)
Scott Kelly (Astronaut)
Other Historical Figures with ADHD
Pablo Picasso (artist)
Vincent van Gogh
Other ADHD Resources & Articles
If you are interested in resources that suggest ways to help kids with ADHD focus and self-regulate, you may enjoy the following posts:
Pin this Post ⬇️
List of Famous People with ADHD (PDF)
Download your list of famous people with ADHD by filling in the fields below: